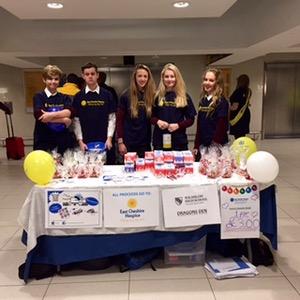 Having braved the cold to sell their technology gift packs at local artisan markets, a team of budding entrepreneurs from Wilmslow High School were honing their sales techniques last week at the Manchester Airport Dragons' Den Trade Fair.
Competing against 18 other schools, in the 2015 Manchester Airport Dragons' Den competition, it was never going to be easy to convince passengers arriving back from their holidays or business trips to stop in their stride and do some Christmas shopping.
Julia McHarg, Team leader Business and Enterprise, said "However, once the situation was assessed and sales targets set, the students quickly learnt from each other, overcoming any feelings of disappointment if some travellers were unconvinced, and after two hours had sold most of their stock and raised another £280 for East Cheshire Hospice."
The Year 10 team have so far raised £660 for East Cheshire Hospice from selling their 'Technology Pamper Kit' which contains a set of coloured earphones, stylus and a gem.
The competition, now in its 7th year, sees school teams from across the region choosing, manufacturing, promoting and selling a product which must retail for no more than £5. The overall winner will be the team generating the highest profit. The Wilmslow team consists of Amy Loynton, Becky Thorley, Maddie Gill, George Collier, Harry Hughes and Brad Hart.