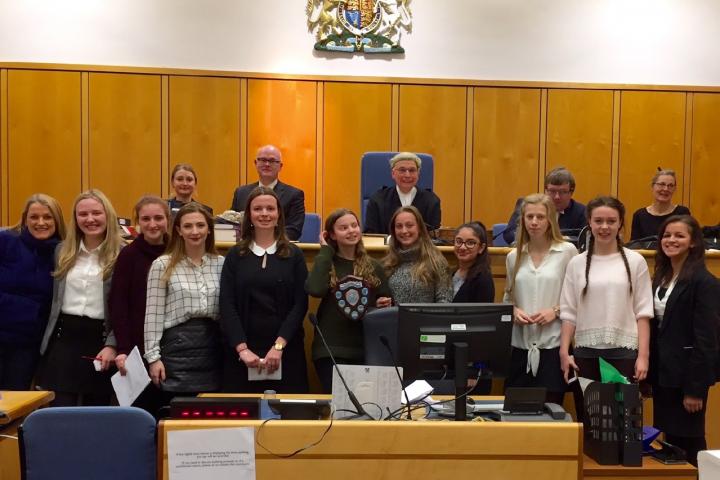 A team of girls from Wilmslow High School Girls were named worthy winners in a regional mock trial competition.
Millie Brookes, Beth Burgess, Izzie Hargreaves, Emily Hughes, Sophie Kraunsoe, Charlotte Kraunsoe, Rafia Munir, Emily Short, Evie Smith and Charlotte Tait travelled to Sheffield on Saturday 21st November for the regional competition, which took place at Sheffield Combined Court. The competition included two cases, one of which was about a late night mugging and the other was about stealing a dirty coffee cup, without its saucer.
Deborah Roussak, Teacher of Law, said "The cases were apparently 'un-winable' in terms of producing a guilty verdict however when prosecuting, our team somehow managed to achieve a guilty verdict in one case and a guilty verdict in one of two counts in the other. The girls' hours of practice and excellent preparation paid off as they found all the salient points."
The schools involved performed three trials and then the scores were added up so the two top teams out of the ten competing could go head-to-head. Wilmslow High School competed against Poynton High School in the final.
The judges, four of whom were watching the final plus a QC who was marking, were clearly delighted with Wilmslow's performances and the QC said at the end that they were worthy winners.
Deborah Roussak added "Our barristers were quick-witted and pounced upon opportunities and inconsistencies in the other teams' arguments. Our witnesses were imaginative, with watertight arguments and answers for everything that was thrown at them; an all round great day in court."
Tags: