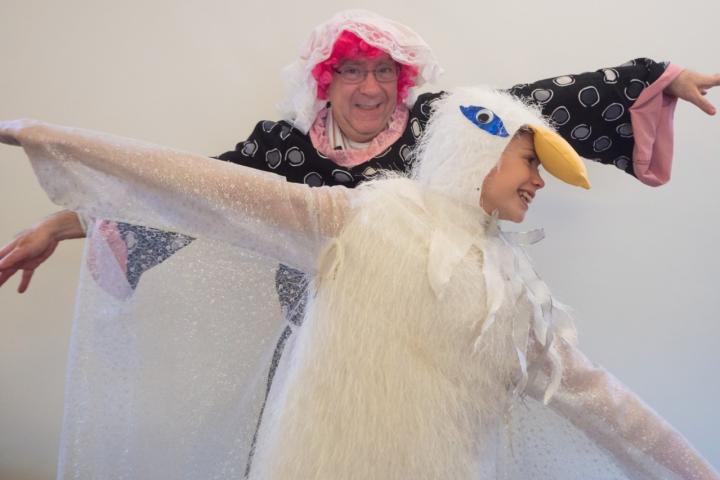 This year's pantomime at Wilmslow Guild is the well-known but less frequently performed story of Mother Goose.
Director Grace Reed said "You don't see this panto performed very often, so it is a joy to direct. All the characters are the traditional ones you'd expect to see in panto such as the principal boy and girl, comedy duo and of course the ever popular pantomime dame – Mother Goose herself."
The Guild Players' pantomime always proves popular, with many people enjoying taking their children to a show in the run-up to Christmas.
Ticket secretary Bill Beton said "Like last year our matinée performance sold out within a few days. People love to come to our pantomime because unlike the big professional shows our theatre only holds eighty. This means the kids are really close to the action and they are always totally absorbed all the way through. We start the show early (7.15pm) so it is not too late for the younger members of the audience. We're finished by 9.30pm."
This year has been unusual in that none of the cast have children or grandchildren in the show. "Most years we have many youngsters in our chorus to play villagers, fairies and so on," said Grace. "We see this as a great opportunity for young actors to get genuine experience 'treading the boards'. But this year it has worked out a bit differently and I was initially worried that we would not have any little ones to play the fairies that are essential to the plot. Then one evening a lady came into our costume wardrobe to hire costumes and it turned out that she is a ballet school teacher. She offered to bring six of her girls to be fairies, plus a boy soloist. This has helped us enormously. They move so gracefully and are going to look absolutely wonderful."
"Come and join in the audience participation and let your hair down," said Bill. "The reaction we get from the audience always makes the cast very happy, and that in turn means our audience leave with big smiles on their faces."
The pantomime runs from 9th to 12th December at Wilmslow Guild, the adult education centre on Bourne Street. Performances start at 7.15pm. Tickets cost £7.50 for adults and £5 for children and can be booked online at www.wgp.org.uk (no booking fee) or by calling 01625 520126 or emailing tickets@wgp.org.uk.
Photo: Owen Le Blanc as Mother Goose and Lucy Diss as Priscilla the magic goose.
Tags: