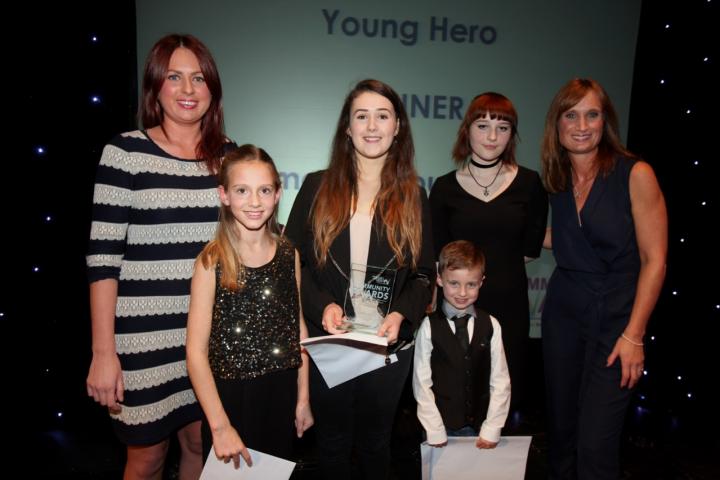 As reported last week, local heroes were amongst those celebrated at the inaugural Wilmslow Community Awards ceremony on Thursday, 19th November.
Wilmslow's first ever Community Awards, celebrated some remarkable local people, particularly in The Young Hero category where judges had a very difficult task selecting the winner.
Every young person shortlisted had a remarkable story to tell, from overcoming a serious illness to raising substantial amounts of money for charity.
Councillor Keith Purdom, Chairman of Wilmslow Town Council, said "The judging for the Young Hero Award was both very difficult for me, I found it a very emotional and at the same time an inspiring and highly rewarding experience.
"I would have given them each the award as every one of them was a hero or heroine to me. I had looked up hero/heroine and found it applies to a person that 'displays courage, bravery or self-sacrifice'.
"All these young people fit that description and their motivations of helping others and displaying self sacrifice were very evident. As a father and grandfather myself I would be very very proud indeed if my children had done any of the things these young people had done and it was great that the Community Awards could recognize each one of them as the hero or heroine they are."
Imogen Young-Lee Imogen, who was chosen as the worthy winner is 15 years old and has had to take on responsibility as the main carer in her family since her mum was suddenly taken ill and has been left wheel-chair bound. Imogen also looks after her younger sister who has autism and, despite all this, she continues to do well at school is now somehow finding time to help the Carers Trust to champion the rights of other young carers.
Those shortlisted in this closely fought category were - Natalie Elliott, Lauren Wild, Samantha James, Imogen Young-Lee and Joseph Hibbert - received a well-deserved huge round of applause when they were all invited up onto the stage.
Natalie Elliott had an accident on a hammock In the summer of 2013 whilst playing with her big brother Ben on holiday in California. She managed to knock two adult teeth out. The doctor treating Natalie's mouth injury did a standard blood test which led to the discovery that she had a very rare kidney disorder, which causes the kidneys to fail. In September this year, aged 10, Natalie had a kidney transplant from her dad Chris which has been successful. Throughout her illness she has fundraised for Kidneys for Life and has raised over £65,000.
Lauren Wild was just 13 when she discovered she had cancer. Her treatment involved rounds of radiotherapy and chemotherapy which resulted in Lauren losing her hair. Being so ill at such a young age led to great feelings of isolation. Her family and friends set up a fundraising page and from an initial goal of £1,000 Lauren has now raised £30,000 for the Teenage Cancer Trust and the Royal Manchester Children¹s Hospital.
On 23rd July this year Samantha James was on a bus in Wilmslow when she saw a lady who had collapsed in the road. Samantha got off the bus, phoned an ambulance and, as the lady had stopped breathing, she performed CPR and saved her life.
Joseph Hibbert is just 5 years old and has run 5K in three races in three cities in the past year. Joseph was inspired by the story of Charlie Whalley a young boy who had sustained terrible burns to his body, and decided he wanted to find a way to help raise funds. His dedication to running and fundraising has raised over £3000 for Royal Manchester Children¹s Hospital. He plans to continue and is now inspiring other children from his school to join in and run with him.
Catherine Mackenzie commented on the Young Hero judging, "It was incredible to read the stories of these young people, such bravery, courage and determination in the face of adversity. Between them they have raised an incredible £100,000 for their chosen charities and we are proud to have shared their inspirational stories at the Awards Evening on Thursday.
I think all the judges would agree with me when I say it was a really tough decision to choose a winner. After careful consideration, we awarded 15 year old Imogen Young Lee who continues to strive in her daily life as the main family carer, whilst championing and fundraising for other young carers in the area through her work with the Carers Trust 4 All."
Photo: (l-r) Helen Gardner (Katie Homes), Natalie Elliott, Imogen Young-Lee, Lauren Wild, Annabel Tiffin. Front Joseph Hibbert.