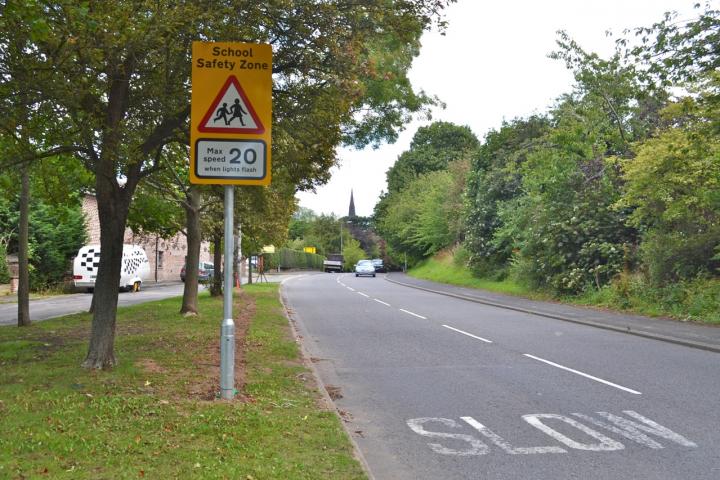 A £1m programme to install advisory 20mph zones near all schools in Cheshire East has been approved by Cheshire East Council's Cabinet.
The three-year programme will tackle more than 130 schools, which are located in areas with speed limits between 30mph and 60mph.
Year One (2015/16) of the programme includes sites which currently have a 30mph speed limit; there are existing complaints relating to vehicle speeds; the new speed limit can incorporate more than one school due to the close proximity of the individual sites and those school where flashing amber warning lights are already located on the road adjacent to the school site.
Local schools to be included in Year One are Nether Alderley Primary, St Benedict's Catholic Primary and Wilmslow Grange, Styal Primary and Gorsey Bank Primary.
Year Two (2016/17) sites include all those where the current speed limit is 30 or 40mph and where there are no flashing amber warning lights located on the road adjacent to the school site. Local schools to be included in Year Two are Dean Oak Primary, Wilmslow High School, Lacey Green Academy and Lindow Community Primary.
Year Three (2017/8) sites include all those where the current speed limit is above 40mph and there are no flashing amber warning lights located on the road adjacent to the school site. Mottram St Andrew Primary and St Anne's Fulshaw C of E Primary are included in Year Three of the programme.
The decision follows a 2015 National Highways and Transport survey of Cheshire East residents that placed road safety as a top priority. The Council also carried out a local community safety consultation earlier this year, where a significant number of responses related to speeding outside schools.
Evidence also shows that decreased traffic speeds improve the chance of survival when a pedestrian is involved in a collision. At 20 mph, a pedestrian has a 97 per cent chance of survival compared with a just 10 per cent chance of survival at 40mph.
Cheshire East currently has 160 school sites, of which 23 already benefit from either mandatory or an advisory 20mph speed limit, including those in Alderley Edge and Ashdene Primary.. The remaining 137 schools may have advisory, part-time 20mph limit signs with flashing school warning lights fitted over a three-year period.
The Council considered a full range of options for 20mph zones including: mandatory 20mph speed limits; experimental mandatory speed limits; mandatory variable speed limits; and advisory 20mph zones at peak times.
However, advisory limits were proposed because they can be installed without formal consultation and are deliverable in the short to medium term, subject to funding. Whilst the others either have an administrative element, would require a legal process and objection period or DfT formal approval.
Councillor David Brown, Deputy Leader of Cheshire East Council with responsibility for Highways said: "Road traffic accidents are a significant cause of death or serious injury for children and young people.
"A total 60 children were killed or seriously injured on Cheshire East's roads between 2010 and 2012, and the local rate is nearly 50 per cent higher than the national average.
"We have listened to our residents concerns and are taking action to improve road safety across the Borough and – most importantly – right outside our schools."
Cllr Rachel Bailey, Cabinet member in charge of children and families, said: "As a Council we put a high priority on people's safety and especially on protecting Cheshire East's children.
"This initiative is in response to the concerns of our local residents and we would look to bring it forward in close discussion with local communities and schools.
"This is also about changing the culture and behaviour of motorists around all schools and we will look at enforcement and mandatory speed limits where appropriate and in discussion with local schools and residents."