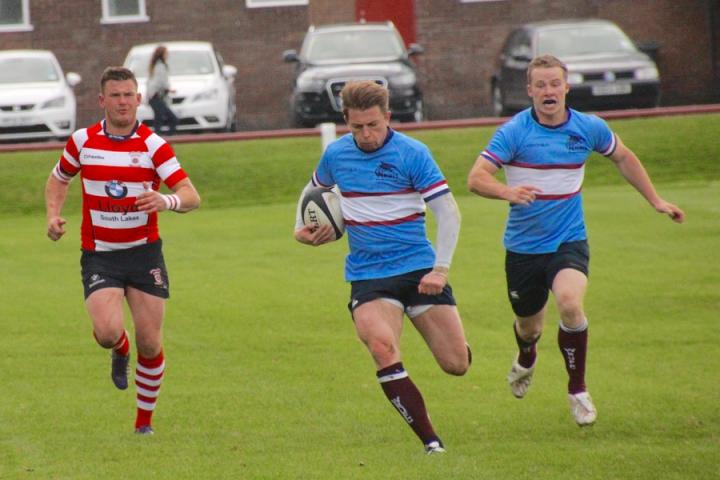 Saturday 17th. October 2015
North 1 West
Vale of Lune 22 – 45 Wilmslow
An all encompassing performance from the Wolves in the third quarter of this game at Vale's Powerhouse Lane ground saw the Wolves go out of sight by the hour mark. They had led 21-17 at half time but it was generally held that the side which was out of its traps the soonest in the second period would go on to win. And this is just what the Wolves did. Within two minutes of the restart, they had their fourth try on the board and added two more in the next fifteen minutes, as they kept the Vale corralled ever more deeply in their own territory. Vale did manage to pull one back with about fifteen minutes to go but the Wolves still had the last shout as they registered seven tries for the second successive week.
Afterwards, Wilmslow coach, Rick Jones, bearing a grin as broad as any Cheshire cat, as well he might, declared himself very very happy with his team's second half. It was though their game had risen to a new level during a period in which it was hard to remember any unforced errors. As ever, he emphasised the team performance and its attitude but if there was one player who could be singled out, it would have to be Ed Stobart, on this occasion having moved from full back to centre.
Jones had been forced into changes when centre Richard Hughes had to withdraw because of a poke in the eye last week, which had become infected, leading to a recall for Ollie McCall, back from overseas, at full back. Nick Barker too had a cut above his eye from last week so he was replaced at No. 9 by Andy Walker.
The flying Stobart scored four tries, taking his tally for the season to ten and we're barely half way through October. If this continues, he'll be within striking distance of the club record by Christmas. None of his tries on Saturday were a 'shoo in' by any measure at all. Two of them didn't look likely at all when he received the ball. Nevertheless, his all round sense of what's going on, where space is going to open up, coupled with his footballing skills, balance, pace and acceleration make him a formidable opponent. If anyone, reading this report, is thinking of coming to see the Wolves play, then Stobart alone is worth the entrance money. Don't think , however, that this Wilmslow team is a one man band, far from it, as they have shown by still rattling up the points in Stobart's absence.
For Vale, it's been a tough start to the season, losses away to second and third placed Kendal and Warrington and to the much improved Altrincham Kersal have been mixed with two wins at home against Penrith and Eccles and a home loss to top of the table Kirkby Lonsdale. They will also have been disrupted by, former Wilmslow player, Fergus Owens resigning as their coach because of a career move. On paper, their remaining fixtures for the first half of the season look less challenging and they probably thought their chances against Wilmslow would be about evens. Neither Vale nor Wilmslow possess the biggest pack of forwards, you'll ever set sight on, so both sides are happiest playing an expansive game. Inevitably, when they meet, they're high scoring affairs full of thrills and spills.
And you didn't have to wait long for evidence of that. Wilmslow were first off from the kick off, winger Harry Patch taking the ball and as is his want took off down the field into contact. Vale didn't contest the breakdown in numbers so Vili Tuipulotu just picked up the ball and, to the groans of the Vale supporters, set off at pace down the middle. 'Come on Vili', the travelling Wilmslow support exhorted, as he ran on all alone to eventually throw a hopeful pass in field to nobody in particular, where it was collected by Vale. They ran, passed and recycled, catching the Wolves offside in front of their own posts. Neil Walker took the points on offer, four minutes played, 3 – 0 to the Vale. This passage of play was typical of the first half as both sides were guilty of careless play.
The riposte was immediate as a scruffy restart led to two poor clearance kicks by Vale, the second of which went at a convenient low trajectory straight to Wolves skipper Mike Black. He released fly half Bob MacCallum and the ball swiftly went out wide to Stobart, who out paced the defence for his first score. Back came Vale, who were unfortunate to have a try in the left corner disallowed for a foot in touch.
Vale were then penalised in midfield, MacCallum prodded the ball into touch for an attacking lineout. It probably didn't go entirely to plan but from the breakdown just outside the Vale twenty two, Legin Hotham found space and ran in for the second Wolves try. The lead didn't last long as Vale soon exploited the full width of their pitch to make progress down the right towards their club house, where from a quick bit of recycling their fly half Adam McCluskie nipped over. It was helter skelter stuff from one end to the other. The Wolves nicked a Vale lineout, the Wolves backs were off again, MacCallum to Hotham to Stobart stretching his legs to score out on the left corner. Two minutes later, Vale got themselves in front, when they repeated the wide play from which they had scored their opening try, to put in full back Jonty Higgin under the posts. Barely twenty five minutes had been played and five tries had been scored. Stobart was now held up twice within a couple of minutes but the Wolves continued pressure earned them a pair of penalties which MacCallum took.
Coach Jones, no doubt, had a bit to say at half time about not giving the ball away and all the evidence suggests that his advice was heeded. Vale made a hash of the restart as Wilmslow forced a lineout on the Vale line. The catch and drive was well defended but when the ball was moved right, Patch on the wing had his chance which he duly took. The Wolves then forced a turnover on halfway to release Stobart, who rounded his man with ease for his third try of the afternoon. Still, play was in Vale territory, another lineout was stolen and from the breakdown, second row Adam Hewitt galloped in.
Vale now managed to get a bit of possession but found it hard to break down the Wolves defence. It took a penalty to the corner to set up a catch and drive which was finished off by lock forward Tom Cvijanovic. And that was really it. Vale continued to have their share of possession for the last few minutes but when they knocked on, the Wolves attacked from the scrum and there was Stobart again, how the Vale must have been sick of the sight him, shredding their defence for his fourth try.
Next week, the Wolves are back at The Memorial Ground against Rochdale for the last 3.00pm kick off of before winter time sets in.
Photo: Stobart on his way for a second try.
Match report by David Pike.
Tags: