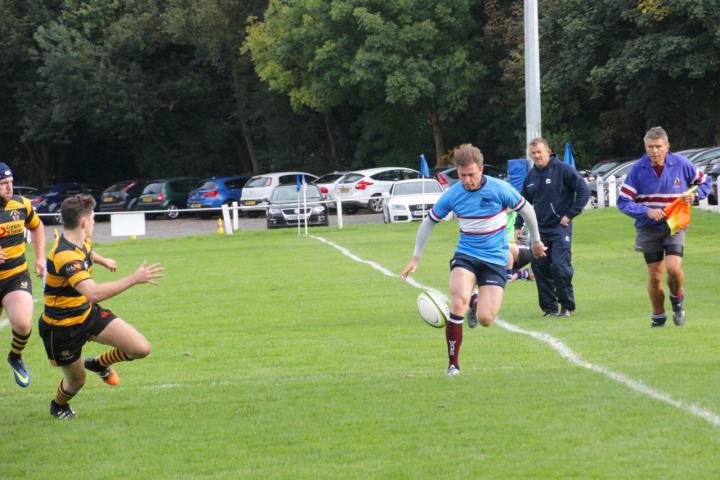 Saturday 10th. October 2015
North 1 West
Wilmslow 47 – 7 Leigh
Once again, coach Rick Jones had to shuffle his resources, making seven personnel and positional changes from the Wolves side that had started at Blackburn. Fortunately, there is currently greater strength in depth at the club than in previous years so the overall dynamic of the team was not much affected.
Nick Barker, who had played on the right wing at Blackburn was selected this week at scrum half, replacing the absent Andy Walker, and in the last quarter substituted full back Ed Stobart, who himself had replaced Ben Day. Ben Stern, who can play anywhere in the back five replaced the unavailable Adam Hewitt in the second row and James Venables started at prop in place of Robert Taylor. The bench included the returning Ollie Wilkinson, who came on at scrum half but can cover any position in the backs, Jack Masters a utility back row, who replaced Vili Tuipulotu, and a recall for Alex Donaldson, back home after three years in Australia, who was the fourth member of the front row, which these days plays in a baffling rolling sequence of almost continuous change. Just about every possible front row permutation must have been utilised. The days when rugby was a fifteen man game are long gone, it's now an eighteen man game at this level and over twenty at the highest reaches of the game. The players need to have the skills for several positions and those starting on the bench have key roles to play when their turn comes. It's no mistake to acknowledge the coach's critical importance to his team in the way he rotates and manages his players.
By the hour point on Saturday the Wolves had run in seven tries, a brace each for Legin Hotham, Harry Patch and Ed Stobart and one for Vili. They had just produced a third quarter of silky running and passing at pace. Everything had stuck in hand, four tries had been scored in that period and the Wolves had forty seven points. Jones then decided it was time to empty out his bench and to save his key players for future assignments. Almost inevitably some momentum was lost and the game seemed to drift into a relatively uneventful period. To its credit, the Leigh side, which moments before had seemed on the verge of total disintegration, rallied and took the game to the Wolves. They pressed hard in the last ten to fifteen minutes, forcing Wilmslow back into deep defence, and were unlucky not to get a consolation score for their revival efforts.
There was an early kick off to accommodate those going afterwards to either England's World Cup farewell against Uruguay at the Etihard or for others, most likely from Leigh, going to Rugby League's Grand Final at Old Trafford.
The Wolves started brightly, an early turnover was the precursor to several impressive looking drives as the ball carrier stayed on his feet and after five minutes probing play, right winger Harry Patch turned up unmarked on the left wing to take the scoring pass.
Leigh though were always dangerous on the counter attack and as the Wolves squandered good attacking possession, they broke out of defence more than once. Leigh fly half Robert Drake missed a decent looking penalty chance on the quarter hour but from the drop out, they retained possession and eventually created space on the left wing for Olly Shepherd to cut inside for a well made try. This time Drake converted. They then dropped the restart and gave away a penalty for getting themselves offside. The Wolves went for the catch and drive and drove towards the posts, where they were held up and awarded a scrum and immediately penalised. No matter, they turned over the ensuing lineout and moved the ball to Stobart joining the line on the left wing. He put in a little kick ahead and was then blatantly obstructed as he tried to get past his man, which he eventually did, to seize on the loose ball for the Wolves second try.
The Wolves progress was still fitful. Stobart looked to have done the hard part by running through the Leigh defence from his own line only to deliver a forward pass at the critical moment on halfway. Nor were things improved by fly half Bob MacCallum having a brief period of very un-MacCallum-like play when everything he tried went wrong in quick succession. An intercepted pass, a charged down kick, one over the dead ball line and another one direct to touch from outside the twenty two. MacCallum didn't allow this sequence to unsettle him and normal service was soon resumed. It took Harry Patch though to turn over a Leigh attack close to his own twenty two and to run up the touchline before scoring under the posts. 19-7 at half time wasn't a bad return but it could and should have been better.
Whatever was said at half time, it seemed to galvanise the team's play. Patch was soon up to intercept a sluggish Leigh passing move and to suck in most of their defence before laying the ball back where it found Hotham, who still had a lot to do but at times it's like chasing shadows trying to lay hand on him as he ran in for the Wolves fourth try. This was followed by Wilmslow taking a midfield lineout and setting up a ruck from which Vili emerged to run unmolested for try number five. A dropped pass briefly gave Leigh a chance but when Stobart got the ball, he released Patch, who charged upfield breaking tackles and causing carnage in the Leigh defence, Stern was there for the off load and in turn floated the ball to Hotham on the inside for an excellent try. More was still to come when everyone seemed to handle as Stobart rounded off the scoring.
Jones was delighted with the showing afterwards or at least most of it. Prop Jordan Ayrey particularly was picked out for his conspicuous play, not only in the tight but also around the field. Patch also showed what a continual threat he can be and how hard he can be to stop but it was overall, Jones added, a team performance, demonstrated in the last quarter by its refusal to concede anything in defence.
Next week the Wolves travel to Lancaster to play their old adversaries Vale of Lune. Vale have a new coach and we know that like Wilmslow, they always want to play an expansive game.
Photo: Ed Stobart about to collect the bouncing ball on his way to Wilmslow's second try.
Match report by David Pike.
Tags: