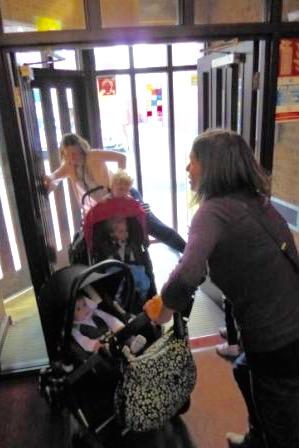 Wilmslow Methodist Church is hosting a concert to raise funds to improve the access and toilet facilities at the church.
Local fundraising choir, Capriccio is putting on an evening of light choral music, from Henry VIII to ABBA, at 7.30pm on Saturday 24th October at the Methodist Church on Water Lane.
Proceeds from the concert will go towards the Vision Fund, which will be used to improve access throughout the building.
Gwyneth Holt explained "The busy town centre church is a hub of activity during the week with numerous societies and groups meeting there. Many of the groups are for young families and the access to the buildings through the heavy double doors is a real challenge for people with restricted mobility or pushing prams.... it helps to be agile as you can see from the picture!"
Capriccio is a group of experienced singers who have met through performing with other choirs and love to sing. They set the group up with the sole aim of fundraising by putting on concerts and earlier this year they raised over £1000 for the ALEX Project in Macclesfield which supports families affected by Parkinson's Disease.
Tickets are £10, under 18s free, and are available in advance from Gwyneth (07980 291993), the Methodist Church Office (01625 528892) or on the door.