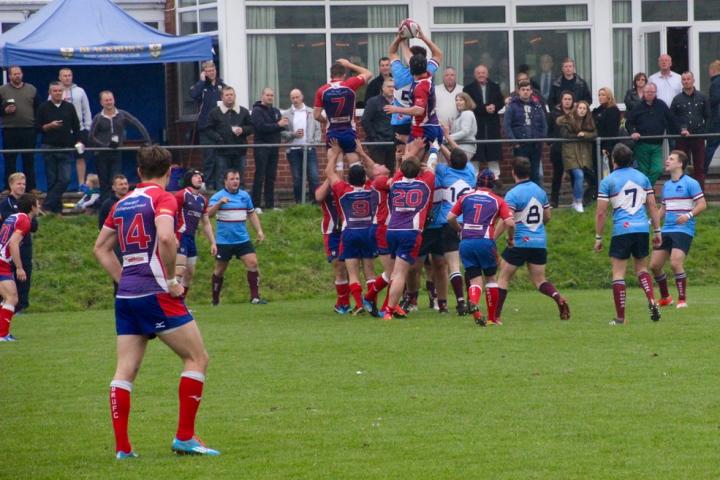 Saturday 3rd. October 2015
North 1 West
Blackburn 11 – 35 Wilmslow
Wilmslow's bandwagon just kept rolling along at Blackburn last Saturday, despite a series of personnel and late positional changes. A fourth successive league win and five tries away from home is not to be sniffed at. The Wolves played some exhilarating rugby in passages to take their opportunities and although slightly shaded in the set pieces, coach Rick Jones and skipper Mike Black both singled out the Wolves' defensive organisation and commitment.
For long periods, they hardly gave the Blackburn side any breathing space, never mind space in which to do anything else, so restricting their scoring chances to just a handful from long range attacks. Jones was pleased with the team's performance, pointing out that all eighteen players had contributed. And yet, this Wilmslow side is still work in progress, delighting its supporters on the one hand with exciting, creative running and passing and then frustrating them in almost equal measure with poor ball retention in the hand and at the breakdown. Heaven knows what this squad's true potential could be.
Last week's try scoring hero, full back Ed Stobart had been ruled out with a hamstring injury and replaced by Ben Day, who himself was just returning from a similar affliction. Day doesn't possess Stobart's electrifying acceleration and pace but he brings other attributes to the side and once he had settled down, he put in a rock solid display with several barnstorming runs from deep, breaking out of tackles and eating up the yards, just like the young Ben Day used to do.
Team manager Mike Blackett had to earn his corn on the morning of the game when Harry Patch, who scored twice last weekend, found himself with travel problems from York University and no kit to play in. By the time, Blackett had got all this sorted out, coach Jones had reorganised the team. Bob MacCallum, happily fit again, was moved from the bench into the No. 10 spot, Andy Walker moved from No. 10 to scrum half and the selected scrumhalf, Nick Barker, put out in Patch's position on the right wing. Patch would start on the bench when he arrived. 'C'est chaotique mais bon, n'est-ce pas,' Jones might well have added if he had been a French coach and possibly even into thinking that his enforced changes had actually strengthened the side.
Blackburn for their part had carried all before them last season in winning the North Lancs and Cumbrian. They had known that North 1 West would be a big step up and had prepared for the new season accordingly. Their best laid plans, however, had counted for nothing in the face of a perpetual injury list. One win at home against Eccles was set against two losses away at Warrington and Altrincham Kersal and unsurprisingly by a drubbing at home from the highly fancied Kirkby Lonsdale. Given the Wolves recent form, they probably had this game listed as challenging but winnable.
The game got underway with the Wolves kicking possession away to allow Blackburn early field position and an early penalty chance, which went awol. They then kicked out of their own half weakly to Nick Barker, who ran the ball back at them before putting in a kick ahead up to their line. 'You're offside', shouted referee Kieran Henry, to the chasing Wolves prop Robert Taylor, who fortunately not only listened but also understood to stand aside, thus allowing the veteran centre Richard Hughes, playing like a young colt less than half his age, to run through for the touchdown. MacCallum's goal kicking prowess had hardly been missed in the last fortnight as the young usurpers, first Conor McMurdock and last week Vili Tuipulotu had both taken their chances. MacCallum was having none of this though as he promptly stepped up firstly to knock over the conversion and then a penalty three minutes later. Precedence and proper order had been restored. The next Wolves attack produced another penalty, which they elected to run for a series of rucks on the Burn line and eventual touchdown by Vili, who somehow managed to squeeze into the corner.
At this stage, the Wolves had been scoring at the rate of a point a minute but it didn't last. Burn's fullback Fifield soon had them on the scoreboard with a penalty of his own and the game went into one of those scrappy periods, where Burn enjoyed most of the possession, causing the Wilmslow scrum more than just a little discomfort, as a frustrated Wilmslow squandered what chances they did have. A fine break down the right wing should have led to a Burn try and it was no surprise when on 35 minutes Fifield added a second penalty. Almost immediately though, they gave MacCallum another penalty chance to secure a twelve point advantage for the Wolves at half time.
The second half got underway with MacCallum planting a penalty into catch and drive territory. The Wolves weren't though able to make anything of that but they stayed on the attack until Walker, who hitherto hadn't attracted much attention from the Burn back row, took his chance for a sniping run from around the Burn twenty two and the Wolves third try.
Play was ebbing from one end to the other. Day made one of his length of the pitch runs which ended just when it was getting interesting with the ball lost on the ground, when he was eventually tackled. It was grabbed by Burn's right winger to mount a threatening counter. Back came the Wolves to win a lineout on half way and to then produce the best bit of all round passing and off the ball running of the game, finished off by Barker getting a well deserved score.
The Wolves then lost prop Robert Taylor and winger Sam Cutts to Yellow cards. Taylor's offence of slowing down the ball illegally in the ruck, was probably compounded by just being the last of several similar Wolves offences and Cutts for a deliberate knock on moments later. Burn used their numerical advantage to win a scrum and to put in second row Ben Corless when they recycled in the corner.
The final score was an absolute gem from Legin Hotham. The Wolves had recycled out on the right around the Burn twenty two and quickly moved the ball to Hotham at outside centre. The young Kiwi took an angle and then another angle, both of which were pure class to out run the despairing defence. MacCallum, all smiles now, knew how to milk the moment by running down the clock as he took his time to ensure the ball was lined up on the kicking tee to his complete satisfaction and that his boots were properly cleaned and polished for the conversion attempt, whilst also indulging in a piece of banter with the referee and a distinctly not amused Burn supporter, who recognised a bit of time wasting when he saw it. The conversion was missed but no matter, the job was done.
Photo: Matt Shufflebottom takes lineout ball at Blackburn.
Match report by David Pike.
Tags: