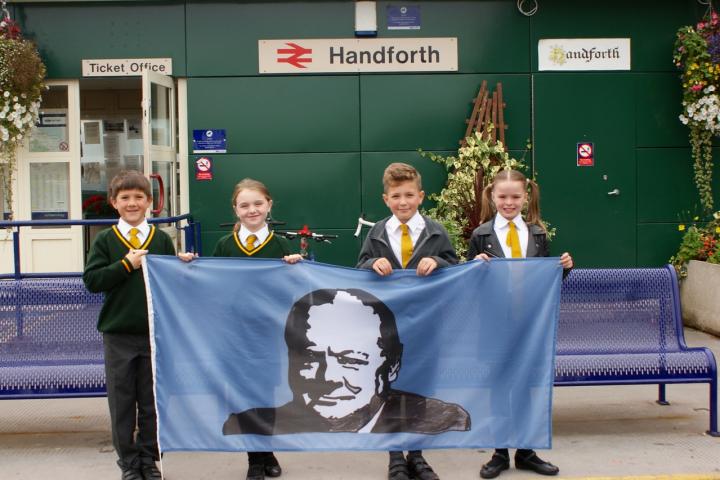 A flag designed by pupils from St Benedict's Primary School is on display at Handforth station as part of their commemoration of Winston Churchill on the 50th anniversary of his death.
The flag was raised for the first time at The Friends of Handforth Station working party on Saturday, 26th September, when flower beds were also weeded and vegetation pruned.
Mrs Jane Gornell, Head of the school said "The pupils were learning about local history and talked about the stations' use in transporting machinery and equipment during World War II. During research they found out that Handforth, Woodford and Cheadle were bases for the RAF and hangers to repair planes. Then they looked at leaders during this time and in particular at Winston Churchill because this year is the fiftieth anniversary of his death.
"They found pictures of him and drew portraits but did not want to detract from his image with other images of the period. They felt that this picture embodies his well known features and you can see his strong personality by limiting the details.
"Sebastian Evans, Helena Mc Laughlin, Leo Pace and Amelia Kelso shown on the photo are pupils in year 5 at St Benedict's Catholic Primary School. The four children helped to design the flag decorated with the image of Winston Churchill as their contribution to The Friends of Handforth Station commemoration of Winston Churchill."
Mike Bishop, Chair of the Friends of Handforth Station said. "We are delighted to fly another flag from St Benedict's as part of our continuing commemoration of Winston Churchill's death. This joins the exhibition of the Winston Churchill Travelling Fellowships and the plaque showing the wit of Churchill, and the Churchill silhouettes created by Age Concern's SHED project in Macclesfield."