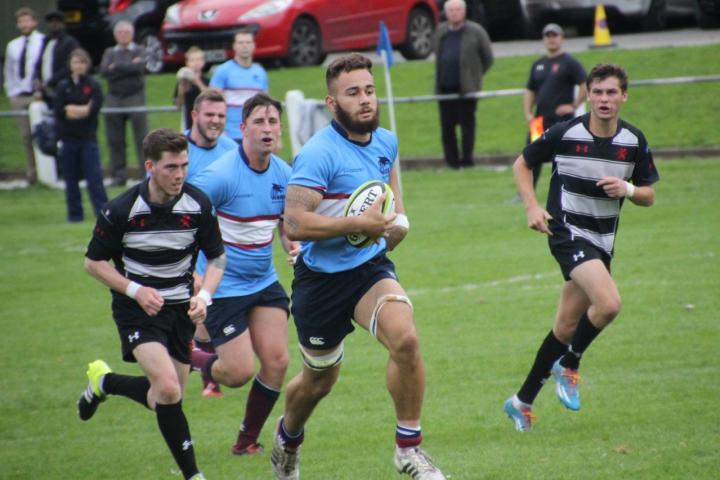 Saturday 26th. September 2015
North 1 West
Wilmslow 50 – 25 Broughton Park
No Banana Skin
Whatever else was happening in the world of rugby last Saturday, it didn't prevent the Wolves from extending their winning run with this eight try mauling of their old protagonists from Broughton Park. Wilmslow coach Rick Jones had told his charges that this game was a potential banana skin and they had to hit the ground running and to exert their authority from the outset by taking the game to their opponents. This they did with three tries in the first fifteen minutes before Park settled and hit back to make a contest of it. Five Wolves' tries either side of half time with only a solitary penalty from Park sandwiched in between, however, secured the points long before the final whistle.
Once again, Jones had had to shuffle his resources. With neither of his first choice half backs, MacCallum and Wilkinson, available he'd had to start with a third combination at half back in as many matches. Did it make a difference? Not a lot. Nick Barker at No. 9 passed crisply and accurately and was always a threat with ball in hand whilst Andy Walker, at No. 10, led the line well without putting a foot wrong. Walker is from Dumfries and has many of the attributes of a Borderer in his play, feisty and towsy, quick to take offence and always up for a skirmish. It's the kind of belligerence which adds to any rugby side. Elsewhere, Josh Whiteley replaced the unavailable McMurdock at hooker, there was a return to the back row by the captain Mike Black and Vili Tuipulotu was given the kicking duties. His first kick at goal though was badly sliced but thereafter everything else was struck right in the meat of his boot. Five successful kicks out of eight plus a long sprint for the Wolves final try wasn't a bad return for the influential Kiwi.
It's been a difficult September for Broughton Park.Many of their players are attached to Manchester University and only start returning late in the month by which time their opponents have two or three games under their belt and a bit of real match fitness. Nor has their cause been helped by having to play their first five matches away from home in order to offer their facilities to the World Cup players of Uruguay. Reports from Carlisle last week suggested a lively performance from their forwards which the home side only overcame in the final quarter. Against Wilmslow, their pack were no mugs either. Their catching, driving and scrummaging was efficient and their backs showed early on that they were capable of breaking the Wolves defensive line if given the opportunity.
What did it for them was making the mistake of kicking the ball out of defence into the arms of the Wolves back three. In fact, you could say all of the Wolves back seven were capable of exploiting a bit of space, none more than their lethal full back, Ed Stobart, and the equally dangerous centre Legin Hotham. Surrounded by such talent, the veteran centre Richard Hughes suddenly looked years younger.
Park were penalised from the first kick of the game when Wolves prop Adam Taher was taken out in mid air as he jumped for the ball. He was never going to catch it so the Wolves were a bit fortunate. Walker found touch close to Park's line on the left, Adam Hewitt took the lineout and when the Wolves were held up out on the right after recycling a couple of times, they moved it back left for Hotham to saunter over at his leisure for the opening try. Park were then penalised for the same offence again at the restart, sometimes a lesson has to be learnt more than once, Walker found the same spot for the lineout, Hewitt caught it again and Stobart joined the line like a runaway train and was unstoppable as he scored out on the right. Five minutes played and the Wolves were ten points to the good.
This time though, Park were not penalised at the restart, the Wolves spilt the ball and Park had a chance to make their presence felt. They crabbed their way to the Wolves line and got close to burrowing over for a score more than once until referee John Pemberton penalised the Wolves under their own posts for a ruck offence. It was now 10-3 as Park left winger, Si Cooke, took the points on offer.
A good kick out of defence, then put Park under pressure with a scrum just five yards out. A poor clearing kick was taken by Walker and moments later, Stobart was scything through on the left touchline for his second try. Vili now found the range as he landed his first successful kick of the afternoon.
Park now had their best spell of the game, helped by another failure by the Wolves forwards to gather in the restart. Chris Martin in the centre opened up a huge gap and only a desperate cover tackle kept them out. They then took a scrum against the head in midfield and rumbled off downfield where second row Jack Williams touched down. Wilmslow hooker Whiteley was furious as his strike had been fine but was kicked back through on to the Park side by his own second row. Tough as it still goes down as one against the head! Park's lineout was also functioning well, disrupting the Wolves more than once on their own throw and being rock solid on theirs with skipper Paddy O'Donnell conspicuous at the tail. A Park catch and drive on 35 minutes was finished off by the bold O'Donnell himself.
Still time though for the Wolves to have the final word of the half as from a lineout left winger Sam Cutts made inroads and from the ruck barker found space for the Wolves fourth try. Nevertheless at 22 – 15 the game was still very much on.
For half an hour in the second period, it was pretty well all Wolves. Stobart got his third from a fluent bit of recycling and passing, Cooke landed a penalty for Park, who then knocked on in a good position and soon after were forced into touch on half way. From the set piece, Hotham and Stobart conspired to release Harry Patch down the wing for his first score. Moments later, Hotham again set up Patch for a run in under the posts. Next Vili had a full gallop through the middle and as nobody tackled him, had to run all the way to score out on the right. If he was a bit short of puff, then no matter, the conversion sailed like a perfect three iron shot through the uprights. And that was it.
The last ten minutes belonged to Park, perhaps the Wolves took their collective feet off the throttle a bit, but Park found a late surge of wind and helped by several penalties in quick succession put prop James Radford in for their third try. With the prospect of a losing bonus point, if they could get a fourth try, they came again but to no avail.
So the Wolves bandwagon gathers pace but it's still work in progress, especially around the restarts, driving mauls and other close quarter stuff. Fearsome in the backs, less so up front. Next week, they are away at Blackburn before returning to The Memorial Ground on 10th. October to face Leigh, another old enemy, who have dished out their share of pain in their time.
Photo: Vili Tuipulotu on his way to scoring for the Wolves.
Match report by David Pike.
Tags: