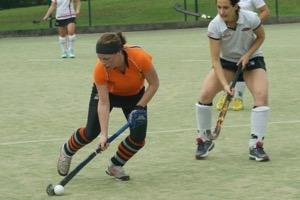 This weekend saw Wilmslow ladies first team storm to another 3-2 win against Manchester Moss Park, the ladies were dominant from the first whistle, and kept possession throughout the first half of the match.
The girls passed around Manchester Moss Park ladies and constantly pressed towards the goal. Their first reward came when Jacq Morgan fired the ball into the back of the net from the top of the D. The girls kept up the intensity and pace and were soon rewarded with a short corner, it was executed perfectly as Annika Hall slotted the ball into the corner of the net to make it 2-0.
The ladies weren't stopping there and despite the heat they kept up the pace for the rest of the half and Di Law managed to slot the ball past the goalkeeper to make it 3-0. The second half commenced and Moss Park came back fighting and managed to score two goals, despite Wilmslow bouncing back and gaining another short corner the match finished with Wilmslow winning 3-2.
Elsewhere the ladies second team smashed their way to victory beating Bowdon 6-0 with goals from Jenna Mapes, Katie Powell whilst Jenny Nurmi and Noelle Hankinson scored two goals each. The ladies third team lost 5-2 against Winnington Park. The men's first team lost 4-2 against Bebington despite goals from Martin Wright and Paul Hallam. The men's second team beat Oxton 3-2, whilst the men's fourth team lost to Brooklands. However the U15's beat Deeside Ramblers a stunning 7-0.
Match report by Amy Bracegirdle
Tags: