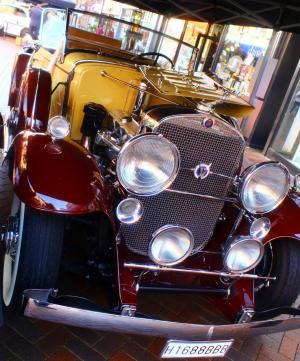 The highlight of The Wilmslow Motor show for me was an unbelievably rare 001931 Cadillac 370 A Roadster, owned by Oldtimer Manchester and valued at £225,000.
Yes there were lamborghini's and ferrari's at the show but for me the engineering skills and body building techniques of a classic car that has been painstakingly put together by hand - no computer aided design here - makes this a winner in my book.
Hand built by the Fleetwood company of Pennsylvania the body was painted in primrose with maroon wings, trunk and coachlines. Running on 18" chrome wire wheels with full white wall tyres and sporting the famous goddess mascot.
This Cadillac V12 Roadster was designed by Harley Earl, chief designer of the Fleetwood company which was formed in 1909 to design automotive bodies, rather than being a company which evolved from carriage building.
Costing $3,945 in 1931, featuring synchromesh transmission and vacuum assisted drum brakes. The 45 degree V12 produced 135bhp @3400 rpm and was the official pace car for the Indianopolis 500.
Cadillac originally produced 5725 V12 engined variants in 1931, there are now believed to be only 8 remaining. This particular car was once part of the Valencia Collection (one of the largest, most prestigious car collections in Europe).
If I was a collector this would most definitely be on my list as Investment prices are constantly rising.
Personally I'd like to see more classic cars in the public domain e.g. at schools and colleges, showcasing many of the skills of yesteryear which we have sadly lost.
Question: Did you enjoy seeing this stunning Cadillac 370 A Roadster at Wilmslow Motorshow as much as I did ?
So Steve, at next years show hopefully we will see more stunning classic cars, maybe a Rolls Royce Phantom six or another dream car of mine the amazing Jensen Interceptor.
Tags: