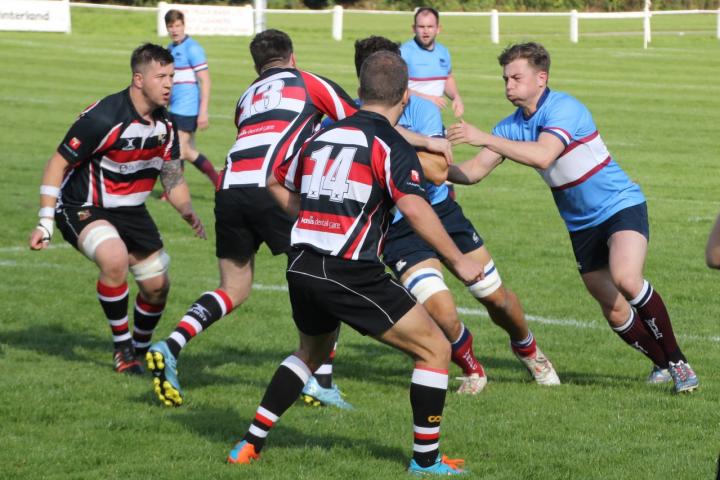 Saturday 19th. September 2015
North 1 West
Wilmslow 31 – 12 Altrincham Kersal
The Wolves duly avenged their Cheshire Vase defeat at Altrincham Kersal three weeks ago by scoring four tries to two, which was probably a fair reflection of the afternoon's play. They enjoyed several periods of domination and in full back Ed Stobart and centre Legin Hotham, they had the two most dangerous players off whom the rest of the side could play.
The Wolves knew they had the pace and invention to cause their opponents problems, providing they could avoid a head to head arm wrestling exercise with AK's dogged and chunky pack. Maybe with a bit more composure they should have finished off more than just four of the opportunities that came their way but that would have meant taking the ball into contact more often, something they didn't want to do, and eschewing some of their over ambitious off loads in closed spaces.
Altrincham Kersal had arrived at The Memorial Ground on the back of three consecutive home wins to start their season against Wilmslow, Eccles and Broughton Park. Nobody was holding too much store in the Bank Holiday result against Wilmslow as both sides were missing players and neither would have been totally match fit. What we did learn on that occasion was that they possessed a rugged pack that was capable of causing problems if they got into the box seat but that otherwise they lacked a bit of pace and incision to easily break down a resolute defence.
The match got underway in glorious late summer sunshine and, according to the Liverpool referee, Mr. David Bundy, was played at a scorching pace. 'A bit too fast for my liking', the heavily perspiring official said afterwards but to his credit he avoided the temptation to slow the game down a bit by over judicious use of his whistle.
The Wolves were quickly into their stride, forcing AK to defend two catch and drive efforts in the first two minutes. After five minutes, Wolves lock Adam Hewitt got a hand on an AK lineout throw in midfield and after two or three midfield thrusts, No. 8 Alex Taylor broke the AK defensive line. Taylor doesn't look particularly quick but that's deceptive and he held off everyone for a forty yard run to score under the posts. This was followed by quick ball from half backs Andy Walker and Ollie Wilkinson and some good support running off the ball in which Vili Tuipulotu, Stobart and Hotham were all prominent. Hotham touched down in the corner and Conor McMurdock, with the injured Bob MacCallum watching from the touch line, landed an imperious conversion, of which the little master himself would have been proud.
Only ten minutes had been played but the Wolves then mucked up the restart, so important in today's game. AK were allowed into the game and helped by referee Bundy's whistle were able to impose themselves on the Wolves defence for several minutes. The Wolves defended three catch and drive attempts, lost Hewitt to a Yellow Card, and then the remaining seven forwards twice drove the AK scrum backwards from five yards out. Prop Adam Taher can be a serious scrummager at times but he injured his back during this period and was replaced by the young James Venables, who maybe doesn't yet quite have the presence of Taher in the set piece but otherwise, together with Robert Taylor on the tight head and hooker McMurdock, acquitted himself well during the rest of the afternoon. A fast improving but still very young front row!
Just when it looked that the danger had been cleared, AK took a drop out and found space on their left which ended with lock Sean Clayton taking a pass with a clear run in for their opening try. It was their only clean break of the game.
The Wolves rhythm had been disrupted by the flow of penalties against them but a midfield scrum on thirty five minutes enabled them to get their backs running again and to release Stobart at pace. He still had a lot to do but eventually crossed for the third try without a hand being laid upon him. A fourth try might have followed immediately when Ollie Wilkinson broke through, only to be called back for a harsh looking obstruction offence.
This led to AK's second try. Their penalty kick to touch was clearly fielded by Sam Cutts about a foot or so from the touchline. The touch judge's flag stayed down but he was over ruled by referee Bundy, some forty yards behind. By the time, he realised his mistake an AK lineout had already been awarded and they then set about a catch and drive which ended with Ben Davies touching down. Instead of it being 28 – 7 at halftime, it was 21 – 12, a totally different proposition.
Mr. Bundy then started to find fault with AK's play at the breakdown but the Wolves were unable to take advantage of a series of transgressions and a Yellow card, until McMurdock landed a penalty kick from close to forty yards out.
There was still nearly half an hour on the clock and most of the game was conducted in AK territory. The visitors enjoyed their share of the ball but didn't have what it needed to break the Wolves defensive line. The Wilmslow forwards for their part were probably guilty of not really contesting the breakdown, as they had done the week before, and the side as a whole delivered a series of offloads, which didn't find their mark. The best chances still went their way, in fact it was hard to think of more than one chance created by AK during this period, and then Stobart and Hotham again were off from a midfield scrum and eventually right winger Harry Patch came off his wing to bury the already stretched AK defence as he stormed over for the defining score.
There were only a matter of minutes left but everyone knew that what had been an entertaining game was now decided and the Wolves played down the clock without alarm.
Coach Rick Jones bore a look of satisfaction afterwards. He felt his side had dominated for long periods and had defended well when they had to and there had been a promising debut by former Wilmslow High School back row Ben Stern coming on as a second half sub from the bench. All three senior sides won and there is a feeling that, even missing the likes of MacCallum, Black and James, all sidelined, and McCall and Clifford both unavailable, there is just a bit of strength in depth, which hasn't always been the case, and that other players have shown they can step up to the plate.
The Wolves are at home on Saturday when Broughton Park are the visitors.
Photo: Full back Ed Stobart supports Vili Tuipulotu in the close quarter stuff.
Match report by David Pike.
Tags: