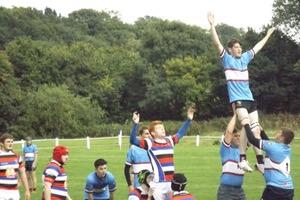 Wilmslow Colts 17-26 Liverpool St Helens Colts
Wilmslow Wolves Colts took to the 1st team pitch for their first home game of the season on Sunday, 13th September.
Early season nervousness and uncertainty was absent in the early exchanges as LSH took an early lead with a well-taken try. The LSH fly-off displayed his all round game from the start: a lucid runner; an accurate passer and no mean kicker. It was his skill and the LSH pack that crafted what seemed like an inevitable score.
Undeterred, Wilmslow got back into the game with a score of their own. The Wilmslow loose forwards providing some go-forward from quick ruck ball, setting up the chance for the capable back line to run into the open spaces out wide. No second invitation was needed as Wilmslow swept the ball left and then right, where winger Guy Pritchard went over for a well-deserved try.
At 5-5 the game looked well balanced. For 15 minutes both sides wrestled with each other but it was clear that the LSH pack were gaining the upper hand in the tight. Late in the first half LSH started making their dominance count, and bundled over for two very well taken scores. Wilmslow perhaps fell off a few soft tackles, but LSH to credit them looked rampant. The game looked like it might have been slipping away from Wilmslow. Indeed, on the stroke of half time LSH scored again to make the deficit 5-26. Things looked bleak for the home side.
The half time 'agreement' (almost a pact between player and coach) was that if Wilmslow could stem the tide, deny the capable half backs free ball, try hard to not miss tackles and establish a structure in defence, then the team had the fire power to strike back. What was to come was far beyond any coaches' thoughts. Wilmslow started well enough after the break and Alex Williams and Brendan Beehan drove into the heart of their opposite forwards. Parity in the loose was being restored, although LSH retained the upper hand in the scrum, and the lineout. A change of position for Hector Tomlinson saw his starting the second stanza at scrum half. This talented rugby player is perhaps better placed to use his not inconsiderable skills at fly half, as his quickness of foot and of mind gives him arguably time at 10 to out-wit opponents. His first half partner Will Allen who had a fine all round game moved to hooker and continued his impressive start to season.
It was not long before Wilmslow glimpsed the opportunity of a come back, and started playing with heart and desire. Wilmslow scored two trys through Harri Dickinson and Tom Higginson but with an all-round game starting to emerge, Wilmslow looked like they could sneak an unlikely win. They believed they could, but in the final analysis the three leaked trys in the first half proved too much of a mountain to climb.
That said the defence at the end of the game was nothing short of heroic and Wilmslow were unlucky not to score from another bullocking run from Marcus Atkinson who made a huge difference at number 8 in the second half. So too did pack leader Nathan Forrester who led his troops with aplomb.
With the game poised at 17-26, it could have gone either way. A marvellous break from the LSH scrum half who together with his half back partner provided the LSH difference, saw the scrum half run nearly 60 yards. The fact that he got 59 yards was impressive enough, and was only eclipsed by a marvellous do-or-die tackle of Dan, who raced back fully 40 metres from the opposite wing to make a game-winning tackle.
LSH camped on the Wilmslow line with time running out. The Wilmslow lads though, far from giving in, saw opportunity in everything: they defended stoutly and attacked as 'no time' approached.
As LSH left to savour their win, the Wilmslow lads recounted what might have been. Ifs, buts and maybes don't score trys. However, if attitude has currency, these lads are indeed rich.
Match report by Mark Shotton
Tags: