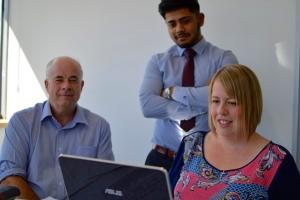 Promotional Feature
Wilmslow based Cloudaccountant.co.uk offer training to clients to get the best use out of our cloud-based accounting solution.
Neil Armitage, Operations Director said, "Greg and Lindsay from local company 1st Stop Kitchens dropped into our Wilmslow offices for an in depth introduction to Xero from Abusina Qureshi and Jonathan Hall who are both fully accredited in Xero."
The training consisted of showing how to navigate around the dashboard, raising invoices and costing up jobs, all of which can be carried out on a desktop, laptop or even on a smartphone while on the go.
Abusina stated that "It's a worthwhile investment in everyone's time; the client gets the most out of a really useful system and we can then ensure that all the information is up to date through our own accountant's dashboard. That way we can advise based on the most recent financial information which is key for a growing local business such as 1st Stop Kitchens."
Greg went on to add "It's a bit of an eye opener really, the amount of data you can quickly put into the system is brilliant. I did think I would leave it all to Lindsay but by the look of it I can be using it while out on jobs and visiting suppliers to make sure I'm getting the most cost effective deals and providing the best service to our clients."
1st Stop Kitchens have been trading for 10 years in the local area and have established an enviable reputation for quality. Recent expansion has meant the need to move over from traditional desktop accounting to Xero. Working with cloudaccountant.co.uk means that Greg and Lindsay can collaborate with Abusina and Jonathan and see the same financial data enabling them to react quickly and plan in advance for the increase in workload.
Photo: Abusina Qureshi (centre) showing Greg Chadwick and Lindsay from 1st Stop Kitchens how best to use Xero.
Tags: