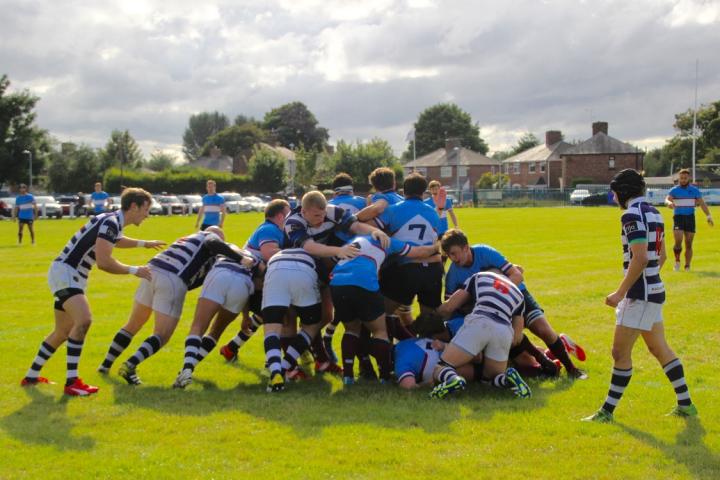 Saturday 12th. September 2015
North 1 West
Eccles 6 – 34 Wilmslow
The Wolves got their season back on track with this much improved performance at an Eccles ground bordering the original 1830 Manchester to Liverpool railway. There was an energy and intensity to their play, which had been missing last week. Their scrum and lineout was solid throughout, they contested the breakdown with far more vigour, kept their opponents under pressure, when they had possession and eventually in the third and fourth quarters just wore them down to score six tries. It did seem that their match fitness had taken a big stride forward and this, no doubt, enabled them to retain their concentration and discipline on those occasions that the home side tried to test them.
It wasn't inspired rugby but it was workmanlike and coach Rick Jones can be pleased that all of the eighteen players he used contributed. It wouldn't have been his preferred line up that he started with but it gave a chance to several players to establish their claims to a regular first team place and to see what some different combinations could do. Quite a lot, it transpired.
Only the first of their tries was really created from their own attacking play. It came on the half hour when back row forward, James Keys, burst through from midfield with a scorching run that shredded the Eccles defence. The five other tries all had an element of opportunism about them as Robert Taylor, Vili Tuipulotu (2), Andy Walker and Harry Patch all made Eccles pay for mistakes made under pressure.
Eccles made their first appearance at this level last season and after a period of adjustment won nine games to finish one place above the relegation zone. For the opening day of this season, their side had been disrupted by a series of late call offs and they had lost narrowly at Altrincham Kersal. It was a game that was littered with careless erratic play and Yellow Cards for both sides. Eccles will have felt that they had sufficient chances to have come away with more than just a losing bonus point and with a bit more composure on the ball would have done so.
Trouble was that the Wolves started brightly and for ten minutes, Eccles couldn't get their hands on the ball. For all this early possession though, Wilmslow were unable to make much impression on the Eccles defence and against the breeze fly half Bob MacCallum just wasn't quite finding his range with his tactical kicking. When the home side did eventually break the siege with a dangerous looking run, they were awarded a penalty which George Oakey comfortably despatched for the opening score. For twenty minutes, it was now ebb and flow in both directions. New Wolves full back Mark Brewis looks as though he has the handling and running skills to establish himself, in the sad absence of Lawrence James, as full back but he has to become more reliable with his kicking out of defence. On another day, two opposition scores could easily have come from wayward kicks. As it was, the Wolves were briefly penned back in defence before giving Oakey the chance to land a second penalty for Eccles.
The riposte from the Wolves was immediate. Vili was up to pilfer the restart, there was a bit of serious looking intent from the Wolves driving play before Keys broke the defence and held everyone off to score. Keys enjoyed two twenty minute cameos on the pitch and was certainly one of those who raised his hand for future selection. Moments later Legin Hotham somehow managed to squeeze himself over in the corner for a perfectly good touchdown. He was mortified though when referee Sheard said he was unsighted and couldn't give the score. A let off for Eccles.
Despite trailing by a point at half time, one had seen enough to feel that the game was there for the Wolves to win, despite MacCallum leaving the field with a stinger to his shoulder. This brought on Walker, who moved to scrum half whilst Ollie Wilkinson dropped back to the No. 10 pocket. If it had been planned, it would have gone down as a masterstroke by coach Jones. Walker had an excellent forty minutes, adding a bit of zip at the base of the scrum, whilst Wilkinson's distribution was all sweetness and light.
Too often, Eccles offended at the breakdown, where Josh Whiteley, in particular, Alex Taylor, Keys and substitute Jack Masters were all frequently crossing the gain line. From a lineout close to the Eccles line, the Wolves administered a classic catch and drive. Shufflebottom and Hewitt were doing well at the lineout and the touchdown came from prop Robert Taylor, another one whose presence was being increasingly felt. Conor McMurdock now had goal kicking duties and he obliged with a cleanly struck conversion.
This was followed by one of those 50/50 moments, when an Eccles cross kick landed unkindly for their right winger but perfectly for a slightly disoriented Vili, who seized upon it and broke away for a fifty yard dash to the line. It was now 6-22 but could easily have been 13-17 if the bounce of the ball had gone the other way. More was to come as the Wolves front row, with Adam Taher now on, became increasingly dominant. They shoved the Eccles pack backwards off their own put in for Walker to touch down. Another shove followed, another ball taken against the head and Walker was off down the narrow side before putting Vili in for his second try.
The Wolves had not been taking the restarts at all well and when Hewitt got penalised, it set up a spell of late defiance from the Eccles side. Wilmslow could easily have conceded but their defensive line held firm and was up quickly, too quickly for some but more importantly to referee Sheard's satisfaction, to deny the home side a single try. When the ball finally went loose, the Wolves scavengers were upon it with the final pass eventually going to Patch, who rounded off the scoring.
Even if the final score line was somewhat flattering, there was no doubt that the Wolves were deserved winners. Encouragingly, there was little to choose between the bench replacements and those that started whilst back at The Memorial Ground, the Wolves second string, the Vikings put Burnage to the sword with a convincing win in Division 1 of the North West leagues. The Wolves may be missing some of their stand out players from recent seasons but there's still plenty of food for thought for coach Jones and his team to dwell upon.
Next week, the Wolves play Altrincham Kersal at home, 3.00pm kick off.
Photo: Not pretty as prop Robert Taylor touches down from the catch and drive for Wilmslow's second try at Eccles.
Match report by David Pike.
Tags: