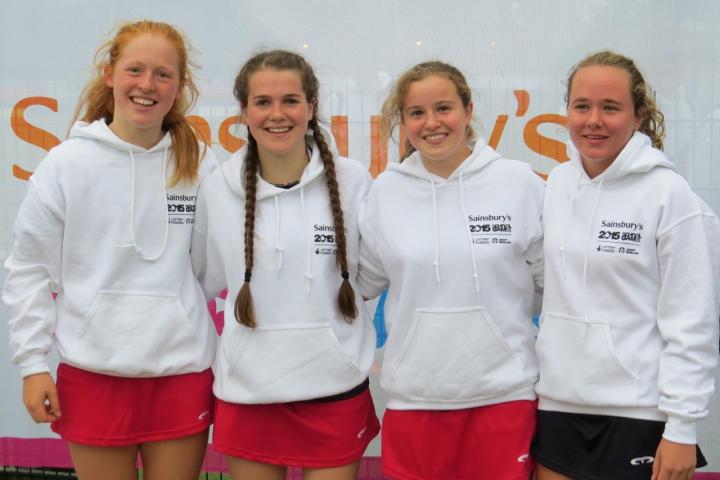 Two students from Wilmslow High School were picked to play for England at the Sainsbury's School Games in Manchester last weekend.
Anna Perry and Saskia Swatland played for England blues team which won their first game then drew one and lost one. Saskia was also given the honour of captaining her side on one day.
Anna and Saskia were joined at the School Games by Sarah Jackson and Claire Robinson. They all play for the Alderley Edge Hockey Club's first team and were selected after a five day camp in the summer.
The girls, who are all in year 13, have juggled their academic studies with their attendance at regular training camps and have all competed an additional Advanced Apprenticeship in Sporting Excellence involving modules on Sports Nutrition, Psychology and Injury Prevention.
The Sainsbury's School Games is one of the largest multi sports events to be held annually in the world and brings together the nation's top young able and disabled athletes from 12 sports including cycling, swimming, athletics and hockey.
The School Games used venues established from the legacy of The Commonwealth Games and over 1600 athletes stayed in an athlete village. The event started with an Opening Ceremony at the Manchester Arena with live acts celebrating youth talent across the country with young dancers, singers and gymnasts entertaining the crowd. Previous alumni of the School Games including Ellie Simmonds and Dina Asher Smith spoke of how important events like the Sainsbury's School Games was for them in preparation for future international events such as the Olympics.
Angie Jackson, who coached these girls when they played for the club's u10's side knew they were destined to do great things in the hockey world. She said "From an early age this squad of players showed incredible focus and dedication and a total of 6 of them have now gone on to represent their country. After the commitment these girls have shown it was a joy to watch them walk out for their country and get the rewards for all their hard work."
Photo (left to right): Sarah Jackson, Anna Perry, Saskia Swatland and Claire Robinson.