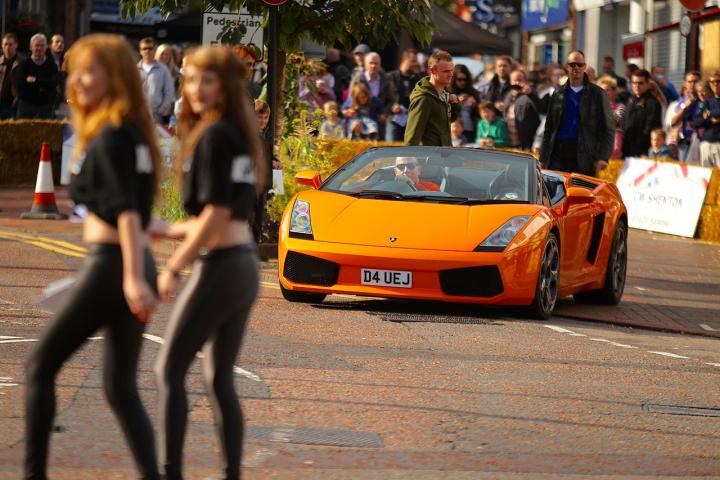 Wilmslow Motor Show is back this weekend with a bigger than ever display of prestige vehicles and super cars.
The town centre will be transformed into an outdoor showroom with over 55 displays of vehicles from Jaguar, Ferrari and Porsche to McLaren, Rolls Royce and Bentley so visitors can get close to these incredible cars on Saturday, 12th September
In addition there will be 30 amazing vehicles from the supercar parade in the Supercar Paddock which will run from Hoopers to The Coach & Four on the Alderley Road service road. They will be roaring through the streets at 12pm, but the paddock will allow early viewing before you see them in action.
Sporting Bears will be supporting The Children's Adventure Farm Trust again this year with their Dream Rides. They have promised an incredible line up of supercars - and for a donation to CAFT you can take your turn as a passenger. Ever wanted to ride in a Maclaren? A Morgan? A Noble or a Bentley? Now's your chance.
Staff from CAFT will also be on hand so you can find out more about the wonderful work that they do with disabled and disadvantaged children - and every penny donated goes to support their work.
Alistair Laing of CAFT said, "We're so pleased to be involved with the Wilmslow Motor Show again this year. The generosity of Sporting Bears and Motor Show visitors provides us with much needed funds to ensure we can continue the work we do. Do come along and say hello - we'll be at the Dream Rides pit lane in Bank Square."
Retailers will also be getting involved, with many giving special offers or a glass of fizz on your way round, whilst the town's coffee shops, bars, pubs and restaurants are all ready to revive you with some great food and drink.
The show be attended by some of our local motor racing talent including teenagers Kyle Hornby and Cameron Roberts, who are both currently racing in the Ginetta Junior Championship and will be bringing along their Ginettas.
Sam West, who has continued with the National Superstock 1000 championship as well as racing at the NorthWest200 and the Isle of Man TT road races, will also be in attendance and racing driver Oli Webb will be bringing along his BAC Mono and putting it through its paces in the Supercar Parade. Oli won the European Le Mans championship, made podium at Le Mans and is now the 24 hours of Dubai Champion.
Catherine Mackenzie, Chairman of Wilmslow Business Group, who organise the event said "Saturday promises to be a great day out - we'd love as many people as possible to come along and join in the fun at the biggest and best community event in Wilmslow's calendar."
Steve Kennedy of Mailboxes etc, who has been working with the Wilmslow Business Group Events Team to ensure that everything is planned perfectly said, "This year is the biggest Motor Show yet and we can't wait. The support from everyone in the town has been tremendous - we look forward to seeing you there."
This free to attend event is taking place in the centre of Wilmslow; along Grove Street, Bank Square and the Alderley Road service road. It opens at 10am, the supercar parade is taking place at 12noon and the event finishes at 4pm.