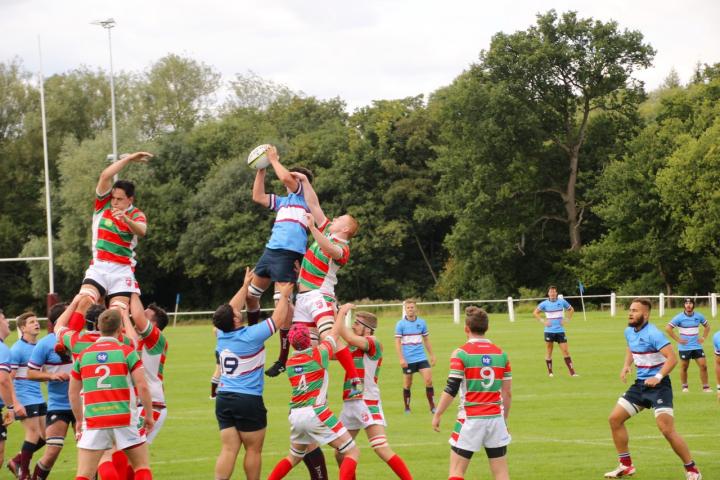 Saturday 5th. September 2015
North 1 West
Wilmslow 30 – 47 Warrington
Wilmslow's rugby players are still struggling to get their season into gear. They conceded seven tries at home to Warrington, as for long periods there just seemed a lack of intensity, passion and hardness about their play. Their scrum and lineout work was frequently untidy, they were pushed about at the breakdown and sorely missed the abrasive play of their captain, Mike Black, who only lasted a few minutes, and of the others, only the Kiwi, Vili Tuipulotu, stood out.
To add to their difficulties, they lost one of their most potent players, Lawrence James, to a broken leg after just ten minutes. The game had to be delayed for thirty minutes as James lay on the turf being treated by paramedics before being ambulanced to hospital, where he was immediately and successfully operated on. Sadly for him, a long period of recuperation will now follow.
Warrington's Steve Pilkington scored the first of his tries after less than a minute of play. The Wolves had taken the kick off and as they ran out of defence, they lost possession in the ruck. Throughout the game, the Warrington forwards were far more energetic in this department and more than once, they came away with the ball, when they shouldn't have done. A long overhead pass to Pilkingon, alone on the left, was hotly debated as to whether it was forward or not but referee Snoddy was satisfied and that was all that mattered as Pilkingon took his chance.
Within minutes a kick out of defence by Warrington was fielded by James and taken on by Legin Hotham, who was held on the line but from the ensuing ruck, quick ball enabled prop Robert Taylor to cross for a try, converted by Bob MacCallum.
The game restarted, after the delay for James' injury, with a scrum in which the Wilmslow forwards were shunted back and penalised. A tackle in midfield was badly missed and the ball floated out again to Pilkington, who scored his second.
The Wolves then rallied until half time. MacCallum landed three penalty chances and then set up a try with a short inside pass to Sam Cutts, coming off his wing, and he released Harry Patch on the right wing for an easy run in. It was really the only piece of really creative play that the Wolves managed all afternoon. For the most part, their talented backs were well corralled by their Warrington counterparts.
The defining moment came on the stroke of half time when prop Adam Taher was yellow carded for what looked like a reactive rather than deliberate high tackle. In the ten minutes after half time, whilst Taher was kicking his heels in the bin, the Warrington forwards manufactured a catch and drive try and then from open play tries from Matt Connelly and Nathan Beesley. Sides can be expected to concede one score when down to fourteen but three in rapid succession suggests something very wrong. The Wolves just couldn't get anywhere near the ball nor exert any pressure during this period in which Andy Roberts' kicking from No. 10 for Warrington was pin point accurate and his sides' handling immaculate.
When the Wolves did get back into the game, they had a mountain to climb. They just weren't able to force any line breaks in the face of a resolute Warrington defence or indeed to find the power to barely cross the gain line. As time started to run out, a careless forward pass in front of their own posts gave the visitors scrum advantage and the prefect platform for a diagonal run by centre Kieran Hughes for their sixth try.
The Wolves responded and finally MacCallum and Ed Stobart were able to create a bit of space for Hotham to score. There was still time for one more play and if they could have run the length of the field to score, then they would have come away with two losing bonus points. Instead a long floater of a pass was intercepted for Warrington's seventh try.
Nobody had much to say afterwards. The serious injury to James and less serious injuries to others dampened the mood. Coach Richard Jones knows that there was very little to celebrate and he now faces the difficult task of picking up his players for next week's game at Eccles.
Photo: Lineout success: Mat Shufflebottom makes a clean catch.
Match report by David Pike.
Tags: