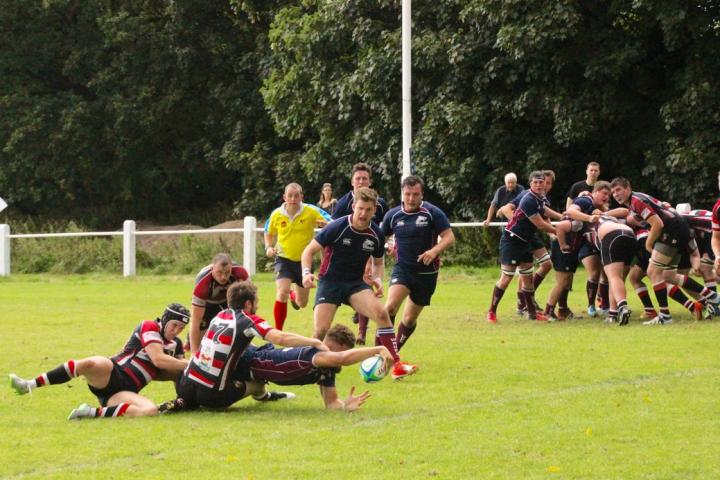 29th. August 2015
Cheshire Vase
Altrincham Kersal 29-17 Wilmslow
The rugby season always used to start on 1st. September but in recent years it has advanced to the August Bank Holiday Saturday to accommodate the first round of the myriad county cup, vase, shield and bowl competitions. You might not think that a matter of two or three days would make much difference but it causes team coaches and selectors all sorts of problems as so many of their first choice players are always away with late summer holiday commitments. Both Altrincham Kersal and Wilmslow were equally affected and it's probably safe to say that the sides which represented their clubs on Saturday will only have a passing resemblance to the sides that will meet in the league at the end of September.
On the day, AK were good value for their win by four tries to two with a penalty goal apiece. Apart from a spell in the third quarter, they always had the edge up front and their forwards were impressive in closing out the game in the last quarter when there was just a sniff of a chance that the Wolves might still nick it.
It was a disappointing performance, said Wilmslow coach Rick Jones afterwards. We didn't stick to our game plan of moving the ball wide with sufficient support runners, too many of our players seemed to lose their heads, get themselves isolated and then either lose the ball in contact or get penalised for holding on or getting offside. You can't turn over as much ball as we did and still expect to win matches. We must also learn to deal with our opponents catch, drive and drive and rolling maul far more effectively. AK were good in that department but not as good as we made them look.
AK's first try came following a Wolves defensive error on the quarter hour, which allowed their pack to get on a roll for prop Nathan Bailey to touch down. Ten minutes later, they took a scrum against the head ten yards out, found themselves with spare men over and centre Paddy Tarbuck was able to stroll through a wide open gate for the second try. Briefly the Wolves responded for Conor McMurdoch to pot a penalty. The Wolves then were fortunate not to concede when a very poor clearing kick was fielded by the AK back three with oceans of space to move in. On the stroke of half time though, their pack got rolling again and when the ball was released, they had spare men again, enabling Jed Scrace to cut inside for their third score.
The Wolves started the second half with far more intent, briefly their scrum got on top, Vili Tuipoluto broke from the back row and galloped fully thirty metres to score. This seemed to lift the side, there was some good running by Callum Westaway and Andy Walker, the pack came close and then Vili broke again from a short scrum for his second try.
Were the AK forwards running out of steam, one wondered. Certainly they were keeping their eye catching physio busy as she seemed to be in constant action - to good effect it seemed as they soon took the game by the scruff again and from another catch and drive put it out of sight with a second Nathan Bailey try. There was still time for them to rub more salt into the wound with a last kick of the game penalty.
It hasn't been the easiest of starts for the Wilmslow coaching team as all but one of their planned warm up games were cancelled by the opposition. You can train as much as you like but there's no substitute for playing actual games to build real match fitness and hardness and to iron out early season faults. Most of the players who finished last season so well have now returned as well as long term absentees Bob MacCallum, Andy Walker and Alex Donaldson. Mike Clifford though, who has been the dominant force in the pack for close on ten years, the young wizard Ollie McCall and Jack Harrison will all be missed. Rick Jones and his coaching team have plenty to do to get the class of 2015/16 fully functioning to its potential.
Match report by David Pike.
Tags: