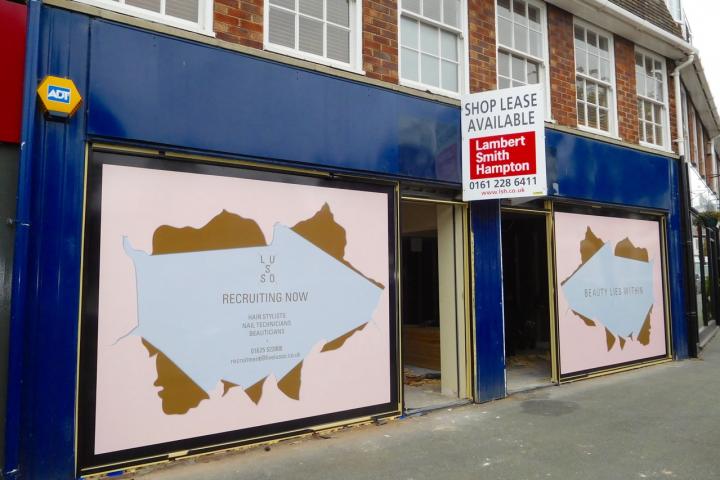 A new hair and beauty salon is preparing to open in Wilmslow town centre.
Lusso will be located on Alderley Road, in the premises previously occupied by Henry Lloyd clothes shop, where extensive refurbishment works have been underway for the past two weeks.
Lusso is being launched by model Marilena Nitu, who explained "Lusso is a completely new concept - a high-end 'five star' luxury salon experience where your every hair, beauty and well-being requirement is catered for by the most qualified and talented team in the area and all in gorgeous, super-contemporary surroundings."
Speaking about why she decided to open a salon in Wilmslow, Marilena told wilmslow.co.uk "I split my time between London and Cheshire and I shop regularly in Wilmslow but always travel further afield for hair and beauty treatments.
"Although there are several popular salons in Wilmslow they are either exclusively hair or beauty; there is nothing that offers the complete package of hair, beauty and well-being. For me, they go together; it's important to feel good as well as look good."
Marilena added "I have been involved in the hair and beauty business for many years, first as a model and then in fashion. The Lusso brand has been established for over a year but this is the first time it will have a high street presence. Hair, beauty and well-being is just the beginning; we have many more exciting plans for Lusso lined up over the next 12 months."
Lusso is currently recruiting experienced senior stylists, stylists, beauticians and nail technicians to work alongside new salon manager, Caroline Thwaytes.
The salon will open formally at the beginning of October, but they will be providing some services to close friends, acquaintances and loyal customers of partner Wilmslow businesses from September 21st September.
Tags: