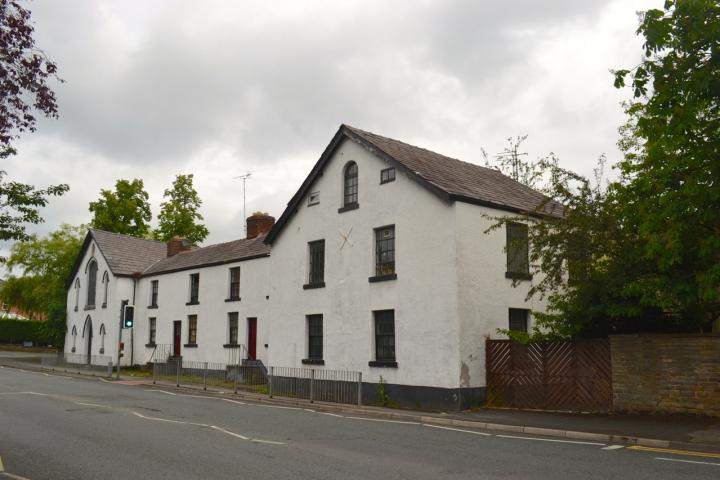 Another planning application has been submitted to convert a former Methodist chapel on Wilmslow Road, Handforth into twelve apartments.
The building at 180 -186 Wilmslow Road originally formed part of the Pinewood Hotel site and comprised a grade II listed chapel to the north end that was constructed around 1840. It was later used as a Sunday School and more recently by the Pinewood Hotel as temporary accommodation for staff.
Last year permission was granted to repair and rebuild part of The White House to create seven apartments.
In June 2015 another application (reference 15/1865M) was submitted by Maydean Design, on behalf of Mr A Harrison who is in the process of purchasing the property from the previous applicant, to convert the Grade II listed building into twelve apartments. However, this was withdrawn shortly afterwards because the proposed 14 car parking spaces did not meet the highways standards.
Following the acquisition of adjacent land, this new application includes the provision of 21 car parking spaces.
The proposal is for nine 2-bedroom apartments and three 1-bedroom apartments. These will mainly occupy the existing building with a two storey rear extension providing 61.5m2 of additional floor space. This is a small increase from the 57.7m2 that was approved on the previous application in 2014.
The scheme also includes repairs and rebuilding part of the chapel, replacement windows and doors as well as the removal of some listed trees.
According to design and access statement "The existing building will generally remain unaltered externally, therefore preserving the historic character. The extension that is proposed is sympathetic to the existing building and will have little impact on its character due to its location, size and design."
Plans for The White House can be viewed on the Cheshire East Council website by searching for planning application 15/3472M. The last date for submitting comments is September 3rd and the application is expected to be considered by the Northern Planning Committee on September 9th.