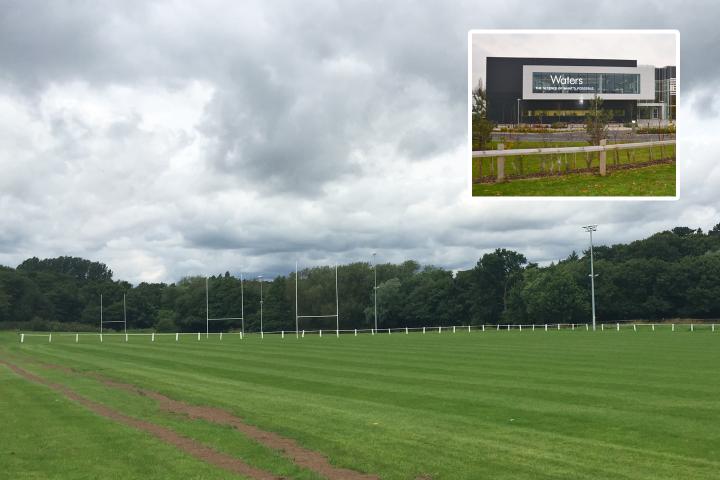 The last piece of Wilmslow Rugby Club's summer jigsaw puzzle fell into place with the tremendous news that Waters Corporation had decided to accept the club's invitation to become its principal sponsor.
In the space of just a few hectic weeks, the club finds itself with new floodlights, a solar panel installation and now a highly visible sponsor.
Club Chairman Jon Hitch said "It's been a busy out of season summer for Wilmslow Rugby Club. First of all the new floodlights were erected, thanks to several donors including the RFU's Rugby World Cup Lead Up and Legacy fund. This was followed with a no cost installation of solar panels by Green Energy Commercial Ltd on the clubhouse roof, which should help make a substantial reduction to energy bills and now finally the last piece for the summer has fallen into place with Waters Corporation becoming the club's new principal sponsor.
"We are extremely grateful for their support and look forward to a long enjoyable and mutually beneficial relationship with them. And, of course, if they have any rugby playing enthusiasts on their staff, they'll be especially welcome."
Since moving into Wilmslow last September, Waters have become a major supporter of local community organisations and events, including sponsorship of the Wilmslow Half Marathon, Quarry Bank Mill and sponsoring the wilmslow.co.uk weekly newsletter fr the second consecutive year. They have also made their substantial Altrincham Road car park available for several large Wilmslow events, such as the Half Marathon and the rugby club's Mini Rugby Tournament.
Steve Curbishley, Senior Director of Wilmslow Operations & Services for Waters, Wilmslow said "We are very pleased to announce the agreement to become a sponsor of Wilmslow RUFC. It builds on our present relationship with the club as key contributors to the Wilmslow Half Marathon. As a sponsor, it is also a great opportunity to further embed Waters in the local community. Waters employees and our Sports and Social Club will benefit from access to a local venue and to WRUFC's sporting and social facilities. It will undoubtedly be an advantageous arrangement for everyone."
Headquartered in Milford, USA, Waters develop innovative analytical science solutions to support pharmaceutical, food, beverage and clinical organisations worldwide. Their Wilmslow operation is the largest site globally committed to the development of mass spectrometry, a means of analysing the tiniest quantities of complex chemical substances to reveal their molecular make up.
Mass spectrometry is not only routinely used to safeguard our food and water supply, to protect the environment, to provide medical diagnosis and to develop health-care solutions but it also plays a key part in aiding analytical scientists to facilitate breakthroughs in sports medicine amongst many other areas, making Wilmslow Rugby Club a fitting choice for sponsorship.