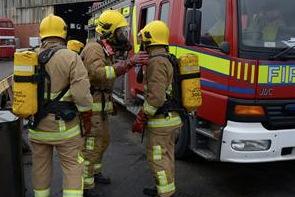 Crews were called to a fire at a property on Wilmslow Road, Handforth on Sunday, 2nd August.
One fire engine from Wilmslow and one from Greater Manchester attended the incident at 7.35am where smoke was seen coming from the rear doors of a property.
Two firefighters wearing breathing apparatus gained entry to the building, which measured approximately 15 metres by 10 metres, and found a fire on the ground floor. A hose reel and a main jet were used to put out the fire and a high pressure fan used to clear the area of smoke. A search of the first floor was also made and found to be clear.
Following a fire investigation, it was found that the fire was caused by an electrical fault.
Tags: