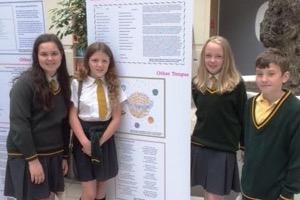 Abigail Hickson from St Benedict's Catholic Primary School won the North West of England section of a national poetry competition for her age group.
Mother Tongue Other Tongue is a national Laureate Education Project, led by the Poet Laureate, Dame Carol Ann Duffy. The competition encourages children learning another language in school to use that language creatively to write a poem.
Abigail, 10, wrote a poem in Spanish and attended a celebration at Manchester Metropolitan University where she was presented with an engraved glass trophy by Amir Khan and Dame Carol Duffy.
Mrs Jane Gornell, headteacher,said "I am delighted that Abigail has been recognised for her achievement as she is such a hard working and enthusiastic learner. The school places a strong emphasis on the primary school pupils learning Spanish as a modern foreign language.
"Pupils at St Benedict's are introduced to Spanish from Reception through to Year 6. St Benedict's School is part of a Department For Education initiative, alongside All Hallows Catholic College, supporting other primary school teachers in teaching modern foreign languages."
Photo: Abigail alongside a large poster displaying her poem. Three other pupils Ben Ainsworth, Caitlin Nixon and Paris Myers also wrote poems which were entered into the competition and accompanied Abigail to support her in receiving her award.
Tags: