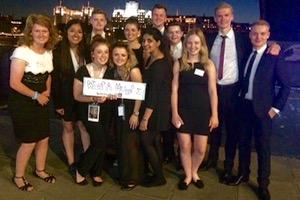 A team of 14 Year 12 sixth form students from Wilmslow High School represented the North West at the national finals of the Young Enterprise competition which took place at the British Film Institute on London Southbank over 3 days last week.
The team of entrepreneurs began their journey to the finals last September when they first met around the boardroom table with their business advisor, Sally Harrison from Barclays bank. Over the weeks and months they formed a company, set aims and objectives, researched the market, decided on a product, produced it and launched it on the market.
They competed successfully at local heats, then proceeded to the Cheshire and Warrington Finals in Daresbury on 7th May, where they were awarded 'best trade stand' but narrowly lost out to Abbey Gate College. By good fortune What A Mug were put through as "best runner up" to represent Cheshire in the North West Finals held on 18th June and were absolutely delighted when, having upped their game with their company report and presentation, they were chosen as the overall best company in the north west and were invited to the national finals in London which were held last week.
Their product provides a drinks solution in the office, and home. Their cleverly designed mugs, supplied with marker pens, allow users to identify the hot drink they would like, if sugar is required and whether or not to add milk. Their aim is to slow the trend of disposable coffee cup usage and encourage the office worker to return to making their own beverages.
Speaking about the overall Young Enterprise journey, sixth form student and managing director, Sophie Davis said, "My team and I were overjoyed that our young enterprise journey continued to the UK finals. On a personal level, I was absolutely honoured to have been presented with the Young Enterprise North West Leadership Award. It is such a rewarding feeling knowing that all of our hard work over the past few months has finally paid off."
The team didn't come away with any of the awards at the national finals, but they were really pleased with their performance,
Sophie said "The national final was at a whole new level from the other rounds. It was extremely tough but all members of the team performed really well. We were disappointed not to win in London, however, we were one of only 14 teams to make it to the National Final, out of the 1,761 teams that entered the competition; this is a huge achievement."
The awards ceremony was one to be remembered; hosted by Steph McGowan of BBC breakfast TV (who had also featured the teams at their trade stands that morning on the show), Steph introduced the young people to a whole range of successful entrepreneurs and business people including Jo Elvin, Editor in Chief of Glamour magazine, Ross Bailey 22 year old founder and managing director of Appear Here, Kate Burns GM Europe Buzzfeed, Jennifer Cransley, UK Deputy Director for small business HSBC and venture capitalist Piers Linney.
Business studies teacher and team mentor, Mrs McHarg, commented, "The 'What a Mug' team are one of only two teams from Wilmslow High School to have ever made it this far in the competition. They have worked extremely hard and we are really proud of their achievements. I know that they have learnt a great deal from this experience even though they did not finish as winners. They all have a bright business future ahead of them."