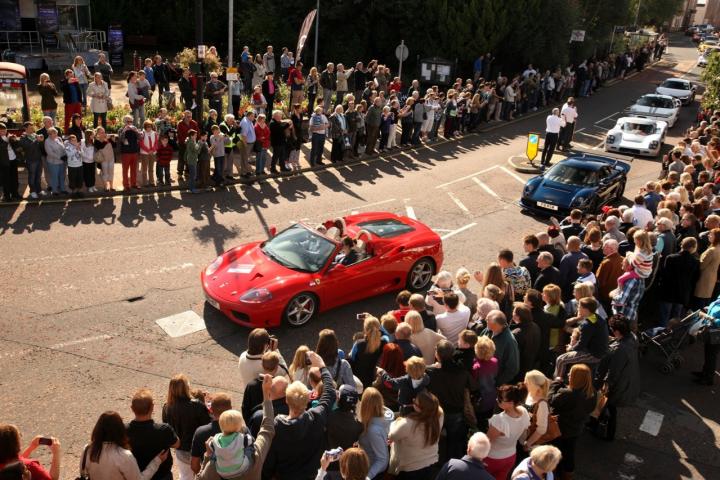 Wilmslow will be filled once again with some amazing supercars, super bikes and much more when the third Wilmslow Motor Show roars into town on Saturday 12th September.
This year's line-up includes Jaguar, Ferrari, BMW, Porsche, Mercedes and Aston Martin. The show will also be featuring superbikes and, for the first time, something for the sea-faring motor enthusiast - Abersoch Land & Sea will be bringing along a 17ft speedboat and some jet-skis to whet your appetite for watersports.
Grove Street and the Alderley Road Service road will both be filled with vehicles and there will be action elsewhere with the chance to ride in a supercar. You can enjoy a drive with Sporting Bears who will be fundraising for the Children's Adventure Farm Trust. The Supercar Parade is also set to return, providing a roaring soundtrack to the day.
Catherine Mackenzie, chairman of Wilmslow Business Group commented, "This event is now one of the highlights of the Wilmslow calendar and brings thousands of people into the town for a great day out. Wilmslow famously loves cars and this event allows us to celebrate not only supercars, but all that Wilmslow has to offer."
As previously, the event is free to attend. The whole family can enjoy coming into the town, seeing some great cars and having a good family day out and lots of local retailers are getting involved.
Steve Kennedy of Mailboxes etc, who came up with the original concept of the Motor Show said "I'm delighted that the show is taking place again. We've proved that the event really works and encourages people to get out and enjoy their town. We've been working really hard to ensure that the event is even better this year – I can't wait!"