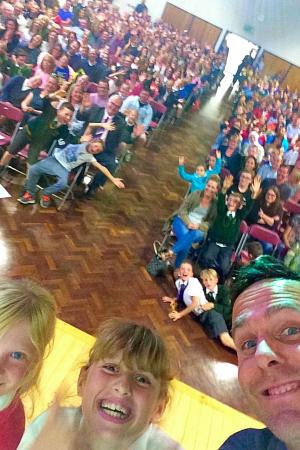 Hundreds of people gathered at Wilmslow High School on Wednesday, 24th June, to celebrate the sporting achievements and attitudes of local primary school children during the previous year.
The annual Wilmslow Primary Schools Sports Awards Evening celebrates the successes of school children from the Wilmslow, Styal, Handforth and Alderley Edge areas.
Darren Morgan, Headteacher at Lindow Primary School, explained "There are two aspects to the evening. Firstly it is an opportunity to celebrate all the many successes, for children from various schools to celebrate each other, which they did. There is a genuine atmosphere of unity and mutual respect.
"Secondly, to have an attitude of gratitude - a great many people commit huge amounts of their time to help children enjoy sport. Every school fully supports the event and I have no problem getting information off any school. Teachers in these schools are amazing, they give so much. As do the head teachers! The parents and other volunteers are all fully committed to the children of Wilmslow. The high school gave us the venue for free and the wonderful Steve Sachro (from the high school) couldn't do enough to help."
The festival band opened the event with three wonderful pieces and Michael Vaughan OBE presented the awards and gave some points of inspiration to all of the people in attendance.
In addition to the many trophies that were given out, each school nominated a child who stands out for each one of the three Commonwealth Games values of endeavour, responsibility and integrity.
Rosie Harris from Wilmslow High School presented kite marks for sport to the successful schools and awarded medals to the 53 primary children across Wilmslow who have been Sports Ambassadors for the year.
Photos: Beth Lomas and Lucy Griffiths, both from Lindow Primary School, )take the opportunity to take a selfie.