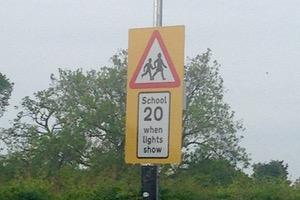 Cheshire East Council has installed four 20mph signs near a local primary school.
The signs have been put outside Dean Oaks Primary School following a request from a former councillor. The 20mph speed limit is not enforceable but rather advisory during school run hours.
A Cheshire East Council spokesperson said: "Four new signs, including flashing units (WigWags), have been introduced outside Dean Oaks School as requested by former councillor Paul Whiteley through the Wilmslow area minor highway works programme.
"This is an advisory speed limit which has been introduced through a locally-approved programme.
"The Council will be promoting more 20mph zones outside schools throughout 2015/16 in order to improve road safety and better manage traffic during the school pick up and drop off times."