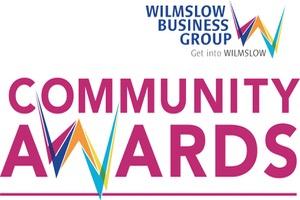 Wilmslow's first ever Community Awards, organised by the Wilmslow Business Group to celebrate remarkable people from all aspects of the local community, will be launched in June.
Nominations for the Awards will officially open at the Party on the Carrs events on Saturday 20th and Sunday 21st June. The organisers will be handing out nomination forms and they hope to encourage everyone to get involved and nominate their chosen person or organisation.
With 11 categories to choose from, there is something for everyone, young or old and no limit to the number of nominations. The Awards will recognise both individuals and organisations from the wider community, highlighting those who make a positive difference, whether that be through personal achievement, community projects or the wider business context.
Categories include:
Volunteer of the Year
Someone who selflessly devotes themselves to a cause not because they are paid, but because they believe in it. It doesn't have to be formal volunteering such as for a charity organisation, although it could be. Perhaps our volunteer champion runs a kids football team, organises neighborhood watch, runs the local brownies & guides or scouts, is a hospital visitor, or on the board of school governors? If they provide an invaluable, unpaid service to the community, they can be entered into this category.
Neighbour of the Year
Is your neighbor one in a million? We're looking for those ordinary people we know are in every street who you simply couldn't manage without. So if someone you know is always there with a listening ear, helps with household tasks, regularly offers help to the elderly or disabled or generally makes life easier and more pleasant where you live, let us know.
Teacher of the Year
Does your teacher inspire you? Are your children encouraged to achieve by an extra special teacher? The teachers of Wilmslow play a vital role in shaping the futures of our children. We are looking for a teacher who has shown constant dedication, kindness and understanding, inspiring young people every day. Everyone has a memorable teacher, so nominate yours for this award. Judges would especially like to hear nominations from pupils for this category.
Our Wilmslow Award
This award is for the person, group or business that has done the most to work in harmony with others, promote diversity, and positively discourage discrimination. Suitable initiatives might involve networking and mutual support between local projects and business where the benefits are for the whole town. Projects should cross community lines and involve people from all backgrounds and sectors. The winner of the 'Our Wilmslow' Award will be a person who has shown an outstanding contribution to Wilmslow by significantly enhancing the town's reputation.
Service with a Smile
Do you know someone, from a charity or community group, a medical practice, a retail outlet or company, who provides outstanding service way above what might be expected? Tell us why their service is so outstanding.
Youth and Student of the Year
This award recognises the efforts of students aged 22 or under who regularly give up their own time to help others in the community. Whether this is volunteering to support older people, helping to run brownies, guides cubs or scout groups, or even helping with environmental projects.
Innovation in the Community
A bright idea, a new invention, a technological masterpiece. Any project or person who created something innovative for the community.
Young Hero
This award will recognise any young person under 18 who has overcome a personal difficulty or made a stand to improve their life or the lives of others. This might be a person coping with bereavement, bullying, disability or medical problems, or someone who has organised support for others who face such problems. Do you know a special young person who deserves to be recognised? If you have a young friend or family member who has shown bravery and courage, carried out a heroic act, achieved success against all odds or dedicated themselves to a good cause, nominate them for this award.
Exceptional Achievement
You can directly nominate someone for this award, but the judges will also look at nominees in other categories who may fit the bill. This award must go to someone who has made an outstanding difference to their life, community, family, school or organisation.
Community Business of the Year
We want to hear about commercial organisations which provide added value to the communities they serve. Do they support a local charity in some way, sponsor a football team, never fail to get involved with community events? Don't forget companies that have high standards when it comes to reducing their environmental impact, or who promote the green agenda to customers and the community.
Community Event of the Year
This is your chance to shout about your favourite event in Wilmslow. This may be a regular event that you never miss or a one off event for the benefit of the community? If someone has put on a production, spread the word about literature, brought music to your ears, or painted the town gold we'd like to know. Winners are likely to have been working with limited resources and must have devoted their activities for the benefit of the community. Have you worked on or been a part of a community project that deserves wider recognition? You may have tidied up your local area or set up a project to provide support for local residents. If you organise, or are involved with, an event or project that brings the community together, gain extra recognition through this award.
Catherine Mackenzie, Chairman of Wilmslow Business Group commented "We want to celebrate the very special people who make our town such a fantastic place to live, work, study and do business. The Community Awards gives the town a chance to seek out some of the unsung heroes who work hard to make our town special. Nomination forms will be all over town and we hope the entire Wilmslow community gets behind the Awards and nominates their remarkable person."
Awards sponsor and Wilmslow legal firm, James Maguire & Co said "We are delighted to be involved with the Awards, as a local business we see this as a fantastic opportunity to recognise the vibrant business community and individuals that make Wilmslow so great."
Nominations for the Awards will close at midnight on Wednesday 30th September 2015, with shortlisting and judging taking place during October by an independent panel.
The Awards Ceremony will take place at The Evans Theatre at Wilmslow Leisure Centre on Thursday 19th November at 7pm. The evening will be hosted by regional news presenter, Annabel Tiffin. Tickets for the Awards Ceremony will go on sale in September.
Click here to view the Wilmslow Community Awards nomination leaflet.