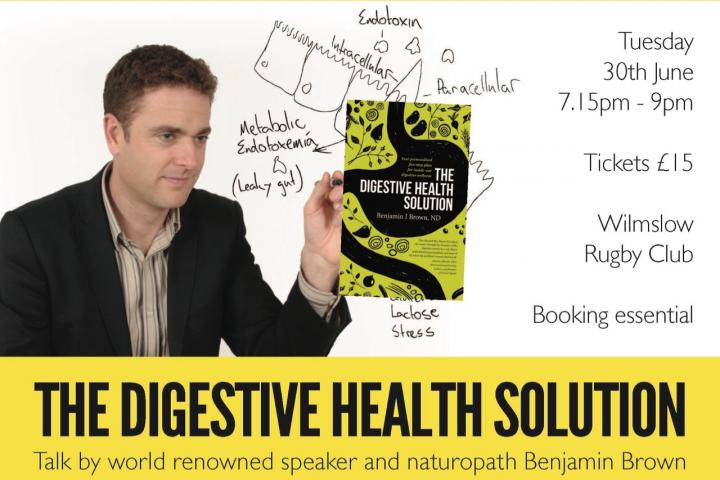 Promotional Feature
It's one of our favourite topics of conversation, who's eating what and feeling what. There's always a new diet/cook book that promises to change our lives, and we're slightly obsessed by them!
This is hardly surprising when digestive problems are on the increase, latest research suggests 1 in 4 people have health problems that started with their digestive system.
At Therapy Organics, digestive issues are one of the most common health problems we see. As a Nutritional Therapy Clinic we're visited by many who need a little (sometimes a lot!) of guidance. During a course of treatment we see our client's lives change for the better.
Nutritional Therapy specialises in improving the health of digestive system, working with food and lifestyle, which in turn benefits the health of the whole body. One to one consultations offer a tailored plan to our clients and are recommended for anyone with digestive health concerns. We want to share the passion we have for this topic with a wider audience as we know so many people can benefit.
We're hosting an evening with a very special speaker, Benjamin Brown. Ben educates nutritional therapists and regularly speaks at conferences around the globe. He's a man hugely respected by the Nutritional Therapy world and doctors alike. Ben is a naturopath, writer, speaker and researcher. He shares our passion for digestive health, having recently written a book 'The Digestive Health Solution' which presents the subject in an interesting and easy to understand way.
If you're one of the one in 4 experiencing digestive issues this talk is for you. Science is delving and delivering research in this area of health, it's these facts we want to present. The talk will discuss the most common digestive problems, the reasons they exist, and what we can do. We'll cover IBS, abdominal pain, bowel habits, bloating, food intolerances, travellers diarrhoea and more. We'll bring the research on natural medicine, sifting fact from fiction to enhance digestion and improve, or even eliminate symptoms fast.
We'll also expand into the relationship between food and mood, again presenting the facts and explaining why good digestive function can improve mood and reduce stress.
The talk will benefit everyone, particular those experiencing any digestive discomfort. And don't think that age is an acceptable reason not to feel your best! This talk is open to all, we look forward to welcoming you and offering some gut food for thought.
To book on the Digestive Health talk contact Therapy Organics on 01625 400113. The talk will be held on 30th June at 7.15pm, at Wilmslow Rugby Club and costs £15 per person.
Have a look at our other events here.
Tags: