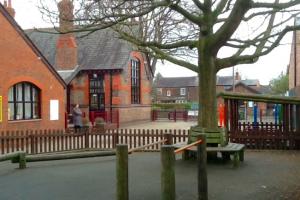 The Governors of St Anne's Fulshaw CE Primary School have applied for planning permission to construct a building in the south playground to house a new resource room and provide much needed facilities and accommodation.
In a recent Local Authority Suitability Survey it was noted that the school has no library, ICT suite and only one multi-purpose hall for general use and dining.
The one room annexe building, which will be adjacent to the main school building, will provide a private space for one to one or small group teaching and meetings.
The standalone private room will house books and provide a space for up to 8 children and 2 adults.
A detailed review of the existing school building, which fronts Nursery Lane and was constructed in 1876, was carried out and it was determined that all the existing space was fully utilised and there was no spare capacity or suitably private areas to cater for the requirement.
Headteacher Clare Daniel explained "We have applied for the library / resource room as we have no additional space in school to use as teaching spaces. As the school has reached capacity, finding any additional room for group work or 1:1 support has become impossible.
"We have a much higher proportion of pupils with additional needs than average and want to provide a place where we can work with children without distraction in a quiet and well resourced space.
"The library is currently spread between the entrance hall and all of the classes and to really encourage children to value reading and books we are planning to use the new building as our library too. Protecting both the space and the resources for children to use more effectively."
It is proposed to locate the new building adjacent to the boundary with 2 Nursery Lane on the site of the existing cycle store, which is to be removed.
A group of parents and staff from St Anne's Fulshaw Primary School spent the bank holiday weekend cycling from the north coast of Wales down to the south coast in a bid to raise £5000 towards the project.
Headteacher Clare Daniel added "The bike ride which happened last weekend was just one of the fundraising events across the year which parents have organised. We have not received any additional funding from the local authority towards the build and it will be solely funded by business and parental donations."
The planning application can be viewed on Cheshire East Council's website by searching for planning reference 15/2018M. The last date for submitting comments is 26th May and a decision is expected by 30th June.