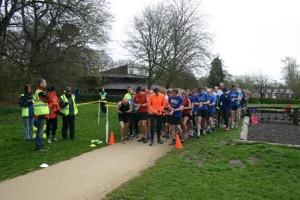 Since launching six weeks ago, Wilmslow parkrun has proved very successful with 556 different runners, having covered a total distance of 4,630 km.
This friendly, social run, which takes place in the Carrs every Saturday morning, has been a truly family affair with 77 under 15s having taken part and next week will see the 1,000th Wilmslow finisher.
Member of the core team Trev Morris said "The Wilmslow parkrun has been very well received by the whole community and has been an overwhelming success with 150 runners of all ages enjoying a 5k jog round the park each week - if you haven't been down yet, you'll find a friendly welcome every Saturday. The event is truly open to all and best of all it really is free!"
He added "A few parkrun enthusiasts have decided to start up a 2K junior parkrun on Sundays for 4-14 year olds for whom the full 5k is just too far - no-one should miss out on the parkrun experience."
The small team of volunteers are looking to launch a Wilmslow junior parkrun in a few months time which will be held every Sunday for 4 to 14 year-olds and follow the same format as at Marple and South Manchester.
Trev explained "Before we start we need a pool of volunteers committed to helping for 30 minutes at one run this year and we also need a few volunteers willing to learn the junior parkrun processes and oversee a run once every couple of months. Please contact wilmslowhelpers@parkrun.com if you can help."
Tags: