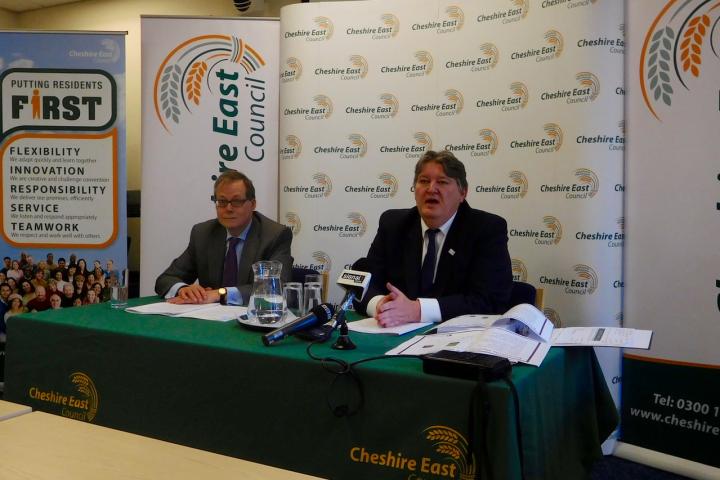 Cheshire East Council has announced today that the number of new homes needed in Cheshire East by 2030 is 36,000 - 7000 more than were identified in the submitted version of the Local Plan.
Councillor Michael Jones, Leader of Cheshire East Council, confirmed at a media briefing today that this would mean more new houses in the north of the borough, with the Inspector having identified the need for more new homes in Wilmslow, Knutsford and Poynton.
Cllr Michael Jones said today "There will not be massive incursion into the green belt by the new numbers. There will always have to be development in the north. The naysayers got it wrong by saying you don't need all this, the Inspector clearly said I don't agree. As a consequence and a good job to them we've now got more numbers in the north.
"I don't necessarily think that's right, but he said it so we have to support it and he's given clarity and that's what we asked for so we'll have to deliver more. Which shall mean by definition more houses in the green belt because there is only green belt in the north and brownfield sites, but we're going to look to minimise that everywhere and certainly we don't see vast sways of the green belt around the north. We don't see that happening. The naysayers and the scaremongers have got it wrong."
According to a series of reports released by the Council today, the increase in new homes is needed to provide for the rising numbers of jobs being created in the area.
Ekosgen, economic development consultants, have projected an average growth rate of 0.7% per year between now and 2030. This compares to a growth rate of 0.4% envisaged in 2009, when work began on the Local Plan.
As a result, Cheshire East Council is making plans to accommodate an estimated 31,410 net new jobs, which are likely to be created in Cheshire East by 2030. The initial version of the Local Plan envisaged net jobs growth of 13,900.
Cllr Rachel Bailey has been appointed to take over the Local Plan from former councillor Peter Raynes on May 27th and will start the task of reviewing all the site allocations.
When I asked about the need for more housing in the north, Cllr Michael Jones replied "The Inspector mentioned three areas. He said Knutsford, he said Wilmslow and he said Poynton.
"We are not going to go back to him and say you are wrong, that's not our way, we are going to take his notice of information and bring it forward and look at those areas but we are going to try and do it through brownfield sites first."
He added "We always believed the jobs growth in the north will be scientific, high quality and high end needing less numbers, whereas the south will be engineering and manufacturing needing more numbers. We are not going to go away from that concept but we do accept his view and we take the clarity that he has given and we are going o deliver it.
"Do we think they'll be more?. Will there be 1000, 1500, 2000?, I don't know but you've got a situation for movement here and we're committed to working with our members to see what we can do.
"I don't think the developers are sitting there licking their lips and going to be very happy. I think we are going to work with people to get the right sites in and we've got sites already know, like Alderley Park with up to 300 houses there which has been heavily debated. That site may well come into it now as an example. Which I think we would all look at being good quality decision making although obviously losing greenbelt is not good."
He continued "We'll look at the three areas the Inspector said: Poynton, Knutsford and Wilmslow. I think the naysayers in Wilmslow have done damage to that argument themselves.
"Those people need to think carefully about how they present these things to the Inspector as sometimes you do get the reaction you don't want. Rather than saying you get nothing, you get a lot more. that is unfortunate but it's not going to be massively more.
"The issue is we've already got 33,000 identified out of the 36,000 so there's not that much of a gap to close. That's mainly because we've been very aggressive giving permissions. We've given over 22,000 permissions already in the past 5 years."
When asked if he was giving up on the North Cheshire Growth Village, Cllr Michael Jones said "I am not giving up on it. It's not for me to decide, but you say to me would it be in I'd put money on it because it is the right thing to do. I think it's the right way to develop."
Speaking about the estimated growth in jobs, Cllr Michael Jones said "When we began work on the Local Plan in 2009, we were midst of a deep recession, during which the UK's GDP fell by 7.2%.
"In 2012, the sun started shining again and Cheshire East is now in the midst of a jobs boom."
"Cheshire East now has more businesses per head than any other North West district. Seventeen of the region's top 200 companies are headquartered in the Borough and 14 of our small and medium-sized businesses were named in 1,000 companies to Inspire Britain, a special report published by the London Stock Exchange.
"Because a good proportion of our existing workforce will reach retirement age in the next few years, this means that we need to attract more people into the Borough to maintain our strong economy.
"Cheshire East is a victim of its own success. Unless we want to see our roads clogged by a huge increase in commuter journeys into the area, we need to provide more housing locally to accommodate the likely increase in the number of people working in the Borough."
He added "We do not envisage major change to the green belt. We are committed to protecting our beautiful countryside and we will accommodate as much as possible of the additional new homes on brownfield sites.
"For example, work is already under way to create two new neighbourhoods close to Macclesfield town centre, which will provide up to 300 new homes on previously developed land. We are assessing all of our green belt land to ensure that we can protect the most important locations where development is least appropriate.
"Most towns and villages have played their part in providing allocated sites for a proportion of the overall housing number and will continue to do so.
"The Council will continue to support its residents, who tell us repeatedly that they do not want inappropriate and unsustainable development.
"We will maintain our rigorous approach in resisting proposals which clearly have an adverse impact on the sustainable development of the Borough.
"Our priority now is to put a strong plan in place that ensures we have the homes we need to match our growing economic success. We maintain that a plan-led approach to development provides the best approach for meeting the needs of future generations, whilst still maintaining the special character of this Borough."
The Council released evidence today covering economic strategy, housing need, green belt and spatial distribution. This will inform further work which will be submitted to the Inspector by the end of July.
It is anticipated that initial examination hearings will then resume in the early autumn.
Tags: