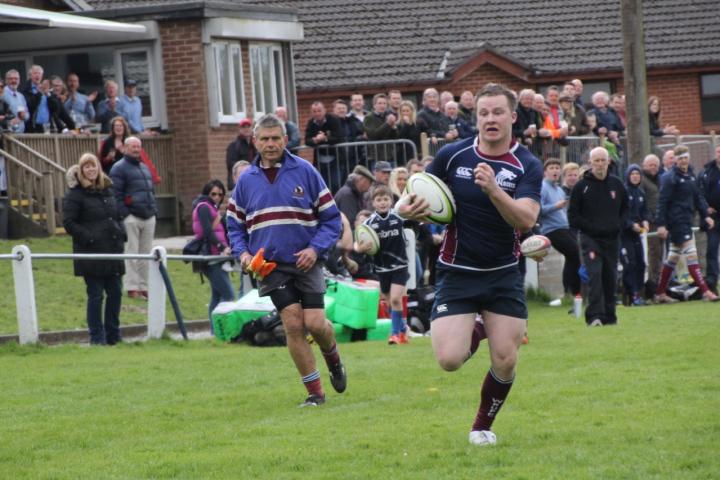 Saturday 25th. April 2015
North 1 West
Wilmslow 83 – 21 Warrington
The Wolves had saved their best for last in a merry romp that yielded thirteen tries. Centre Ed Stobart got five of them to surpass his great friend, the absent Lawrence James, as the leading try scorer for the season. He wasn't though the leading points scorer on the day, that accolade going to the popular Kiwi, Vili, whose personal tally was twenty eight points. With a contribution like that, why wouldn't he be popular!
It was electrifying stuff as if everything they had wanted to do all season suddenly came together in a mesmerising display of fast pacey rugby. They ran with the ball from deep, from wide on the left and from the right, in fact from anywhere. Legin Hotham took a ball on his own line in the second half and nearly ran the length of the pitch, past defenders at will until he was eventually caught. The passing was quick and accurate, continuity and confidence oozed everywhere. Cynics might say that there was nothing at stake for them as they were secure in fifth place in this season's North 1 West table but even if there had been, these Wolves would still have set out to play in the same way. For Rick Jones and his coaching team, it was a gratifying way to end the season and will have given him great hope for the future.
Poor Warrington were simply swept aside. Like Wilmslow, they were also secure four places behind in the league but they had won only three of their twelve starts in the second half of the season, which was supposed to have ended last weekend. As amateur clubs both Warrington and Wilmslow have to live with some of their best and most influential players not always being available, especially, as on this occasion, when a game has to be rearranged in what was otherwise a blank date. To their credit, the team Warrington put out, crossed for three tries themselves, two in the first half at a time when the game was still competitive. Eventually though, it becomes debilitating when you're constantly having to defend against hard running opponents coming at you with venom and unsurprisingly, the latter period of the second half just became a procession for the Wolves. Warrington will be relieved that the season is now over and that they can take stock during the summer. There's no doubt that come the autumn they'll be a different proposition altogether.
It took just two minutes for Stobart to get his first try. An Ollie Wilkinson kick for the corner was followed by a clean lineout take and the ball fizzed along the line to Stobart at outside centre, where he broke the Warrington defensive line through his sheer pace alone. From the restart, Wilkinson banged his kick into the other corner. Under pressure Warrington were forced to kick out, which they did direct to Wolves scrum half Nick Barker and after several phases, Stobart was in again.
The Wolves were lacking a recognised goal kicker so presumably Vili had volunteered to have a go. He didn't spend much time on setting up a kick, just placing the ball on a tee and a couple of strides to gently nudge it towards the target. No standing and staring at the goal posts, no deep breathing, no bending down to clean his boots and none of the intense preparation that an established kicker would entertain us to. His first two attempts sailed over the bar and to prove it was no fluke, he converted nine of the thirteen tries, one of them from the touchline.
Stobart's third try came on the quarter hour when Ben Day intercepted what otherwise would have been a scoring pass for Warrington. The ball then went loose, it was kicked up field and from the lineout, Stobart broke the Warrington line again.
Ten minutes later, another Wilkinson kick set up a Warrington lineout but Mike Clifford was now reading their throw. From the steal, the Wolves went through several phases before Vili found room to break the Stobart monopoly of tries.
Hitherto, Warrington had gone close on a couple of occasions without much luck but when they fielded a poor clearance and were awarded a couple of penalties in quick succession, they managed their first touch down. They then disrupted a Wolves lineout, stole possession and scored their second try. It was now 24-14 and all of a sudden there was a bit of bounce and purpose about Warrington's play.
It didn't last for long though. From a scrum, Ben Day intruded to make a break, which got the Wolves on the front foot again, and from a recycled ball, he then off loaded to Harry Patch for try number five. On the stroke of half time, Patch was again the beneficiary from quick passing as he got the Wolves sixth try.
The second half was predominantly one way traffic towards the Warrington line. Four Wolves tries at five minute intervals came from Stobart, Tommy Wilkinson, Day and Adam Taher.
The sole blemish came from the restart after the fourth try when the ball squirted out on the Warrington side in the Wolves twenty two from which the visitors were able to manufacture their third score. Embolden by this success, they came again but when they lost the ball in a promising position, Stobart kicked up field and followed up for his fifth and final touchdown. Two more tries followed from Clifford and Vili in the last five minutes before referee Taylor saw fit to bring the season to a close.
Photo: Harry Patch on his way to scoring for Wilmslow
Match report by David Pike.
Tags: