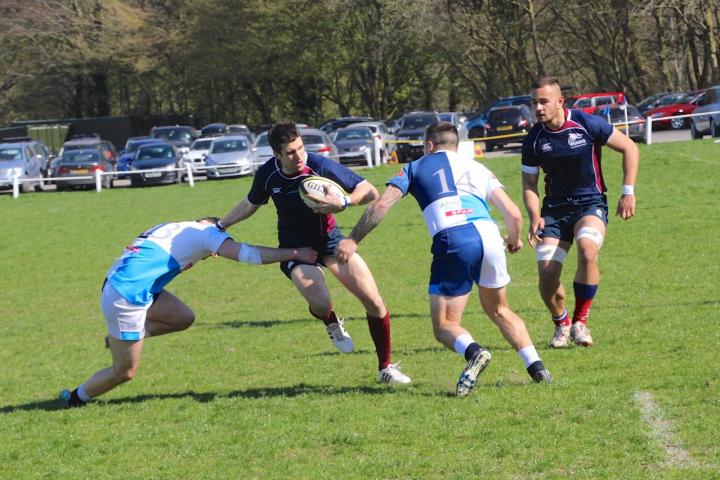 Saturday 18th. April 2015
North 1 West
Wilmslow 34 – 19 New Brighton
By winning this game, Wilmslow achieved their best ever result in a league campaign since their inception back in the 1980s. Mike Black's side has now won 15 out of 25 and if they can get a 16th next week in their last game against Warrington, they will have surpassed their previous best showing in this league. Already it has finished in fifth position in the table, its highest yet, and amassed over 70 league points, another first as well. What is even more remarkable is that more than half of the side which played against New Brighton weren't in it last September.
For this game it was a glorious spring afternoon, twelve U11 teams were competing in the club's annual mini tournament on adjoining pitches, nevertheless the normal intensity of a league game was missing. New Brighton had lost their battle to avoid relegation the previous week and the Wolves were luxuriating in their unaccustomed place in the top five. It was almost as though this was an end of season festival game with little at stake for both sides other than their pride. New Brighton had paid dearly for a five point deduction earlier in the season by the league secretary Ken Potter and their record of narrow losses by less than one score margins, notably at Birkenhead Park. In contrast, Wilmslow had been able to grind out narrow wins against Eccles, Bolton, Vale of Lune and Widnes.
And despite the comfortable final score in this game, it wasn't all plain sailing. Several times, NB were pulled back for forward passes when a score looked likely. When your luck's out, these things tend to happen and to go against you. On the other hand, they did have the opportunity to benefit from a significant penalty count in their favour, some of them in positions which the Wolves would probably have made more of.
The Wolves started with their usual energy and vigour, testing the NB defence, fizzing the ball around but not always where intended until after five minutes and several phases, Lawrence James, playing at fly half, cut inside holding of some indecisive tackling for the opening score. The Wolves though were soon caught out taking high risk options with their passing and when NB got a loose ball and broke from their own half in the face of some poor tackling, they had men over for second row Will McCaig to score the equalising try after ten minutes. Joe Silcock's conversion from close to the touchline edged them in front.
The Wolves front row of Adam Taher, Tommy Wilkinson and Jack Walmsley were increasingly putting the squeaze on their opponents in the scrum and it was maybe this superiority that led to a feisty tousy skirmish amongst the forwards after twenty minutes. Others would call it a good old fashioned punch up. Most spectators thought that a pair of Yellow Cards for the principal protagonists would suffice to cool things down but referee Carpenter reached for his Red Card to banish Wilmslow's Adam Hewitt and NB's No. 8 Ben Marsh. It was a very strict interpretation of the law as the two players trudged off, chatting and shaking hands. The loss of Hewitt was quickly felt as both a lineout and scrum were lost in quick succession, a penalty conceded and it took a long kick out of defence by Ed Stobart, playing at full back, set up a Wolves attacking position in which the NB backs were caught offside for James to get three points on the half hour.
As half time approached, the Wolves fell off several critical tackles, the last of which enabled NB centre Luke Thompson to waltz past his opponent for a try under the posts. The Wolves' response was immediate. Mike Clifford got up to steal a lineout and when the forwards drove, it was the bustling Taher who held off and bounced off everyone for a twenty yard dash for the line. I had to score, he said afterwards, as there was nobody anywhere near me to pass to. 15-14 to the Wolves at half time.
The Wolves were soon in their stride again after the break. Clifford, Shufflebottom and Vili were getting the better of the argument in the lineout, the scrum still caused NB problems and some incisive running from James, Stobart and Legin Hotham looked threatening. Something was going to give and it did in the shape of Hotham demonstrating skill and power to make the line on fifty minutes. Soon after, NB were pushed off the ball in their own twenty two, Sam Cutts came in off his wing to set up a position in midfield from which the ball was mioved to Stobart, who glided through the defence untouched.
NB restarted with a ten yard grubber and managed to retain possession. A series of infringements by the Wolves now allowed NB to reduce the deficit to eight points with their third try, Joe Silcock, and for a while they managed to continue disrupting the Wolves in lineout and set piece as they chased a fourth try, which would have made things very interesting. As it was, as the clock began to count down, they opted for a kick at goal to get into bonus point territory and just as what happened at Reeds Lane last September, it was skewed wide. It was really time now for the Wolves to concentrate on keeping possession but they then lost control of the ball at a scrum as it was wheeled. Mike Black managed to intercept the NB offload, Stobart was sent on his way again and when the ball was recycled it went to Vili who had the space and the gas to run in from thirty five yards to settle the matter with only a couple of minutes to go.
The game also marked the last appearance of NB's icon Katie Tuipuloti after a long illustrious rugby career, so it seemed appropriate to mark the occasion with a photograph of him with his young namesake Wilmslow's Viliami Tuipuloti. Katie thought he knew Vili's parents but Vili had no idea who the great man was. Ah! Well, smiles all round but that's rugby!
Photo: Wolves winger Ian Culligan about to offload to Vili Tuipulotu outside him.
Match report by David Pike.
Tags: