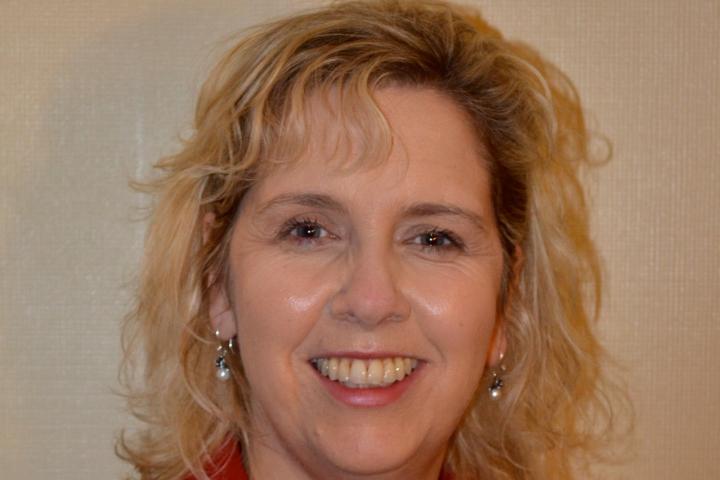 In the run up to the General, Borough and Town Council elections on May 7th we will be publishing brief interviews with each of the candidates that respond to our request.
To read the interviews with other candidates click on the tags at the bottom of the article. For example, pieces on the other candidates for the Wilmslow West Ward will all be tagged 'Wilmslow West Ward' and 'Wilmslow Town Council Election'. Candidates representing the same party or group will also be connected via the tags.
Angela McPake is a Conservative candidate for the Wilmslow East Ward for Wilmslow Town Council.
Angela was born in Wilmslow and has lived here most of her life. She went to Gorsey Bank Primary and Thorngrove (now Wilmslow) High School. Angela has spent 26 years as a member of the management committee of Alderley and Wilmslow Musical Theatre Group, most recently as Chairman. She has performed on stage but now confines her activities to behind the scenes. She is a mother of two and also has two stepsons.
Speaking about why she has decided to stand as a candidate for Wilmslow Town Council, Angela said "I am passionate about helping ensure Wilmslow is a great place both to live and to visit. I believe having a vibrant town centre is vital, as is trying to create a sense of community, which is challenging in a town as large as Wilmslow. There are, though, some very real issues that face some of our residents and I am hoping to be able to help resolve them."
Angela has spent virtually all of her working life in sales and is now the Sales Director for a cooker manufacturer. Her role involves, amongst other things, looking after a chain of retail stores which she says has made her a passionate supporter of the high street and helped her develop an understanding of how to support retailers to enable them to survive (and hopefully thrive).
Angela said "I intend to use that knowledge as a Wilmslow Town Councillor because local shopping is such an important part of the town.
"In my working life, I also spend a considerable amount of time scrutinising proposals, finance documents and legal agreements, as well as working as part of a large and diverse team, all of which should prove to be valuable experience for a Town Councillor."
She added "I am looking forward to getting involved with some of the great people who already contribute so much to the town, and working with them to make a real difference to Wilmslow."