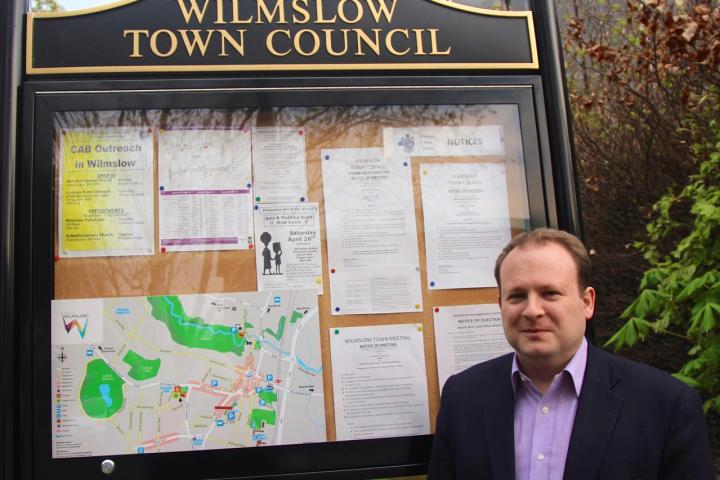 In the run up to the General, Borough and Town Council elections on May 7th we will be publishing brief interviews with each of the candidates that respond to our request.
To read the interviews with other candidates click on the tags at the bottom of the article. For example, pieces on the other candidates for the Wilmslow West & Chorley Ward will all be tagged 'Wilmslow West & Chorley Ward' and 'Borough Elections'. Candidates representing the same party or group will also be connected via the tags.
Gary Barton is a Conservative candidate for the Wilmslow West & Chorley Ward for both Cheshire East Borough Council and Wilmslow West Ward for Wilmslow Town Council.
Gary is 32 years old and he has lived in Wilmslow since Easter 1984 – all but 18 months of his life. He went to Ashdene Primary School and then Manchester Grammar before doing a Master's Degree in Classics and Ancient History at the University of Manchester.
In his day job,Gary is a Senior Analyst for the UK telecoms market for a company called Current Analysis. He works from home which allows him a lot of freedom to do his Council work. Gary has worked in my current job for 7 and a half years, before that he worked in various shops around Wilmslow for 11 years.
Speaking about why he has decided to stand for re-election, Gary told me "Wilmslow is my home town and the opportunity to make a positive difference is something that I have very much enjoyed. There are still a number of challenges for Wilmslow and I want to play a part in helping our town adapt to a changing world whilst retaining its character. There is still a lot of work to be done and it would be an honour to continue working for Wilmslow."
I asked Gary what he considered to be the important issues facing Wilmslow. He replied "Parking and road safety are major challenges for Wilmslow. We need to find parking solutions that support local traders and that prevent our local streets from being clogged up by all-day commuter parkers. We also need to find new ways to reduce speeds on certain local roads. I want to see continued road and pavement improvements."
He continued "I will campaign for an extension to the Broadway Meadow car park near the leisure centre and for a reduction in parking charges at the under-utilised Spring Street car park. I will campaign for 20 mph limits on roads near schools and for new and improved pedestrian crossings around the town (e.g., Knutsford Road, Bedells Lane, Altrincham Road).
"Working with the Town Council, I will work to provide a toilet block near the Carrs play area. I will continue to be a strong local voice on local planning matters. I will ensure that Wilmslow gets its fair share of the £6.5 million earmarked for road improvements across Cheshire East in 2015/16."
Finally when asked why resident should vote for him, Gary said "I believe that I have been a hard working Councillor for Wilmslow who knows the town and the challenges that need addressing. I successfully represented Wilmslow West and Chorley on a number of occasions – such as opposing the Gypsy traveller planning application for land of Moor Lane and opposing development on the land off Rotherwood Road.
"I believe that it is important that there are more younger people on Cheshire East Council and I am presently the youngest Councillor on Cheshire East."