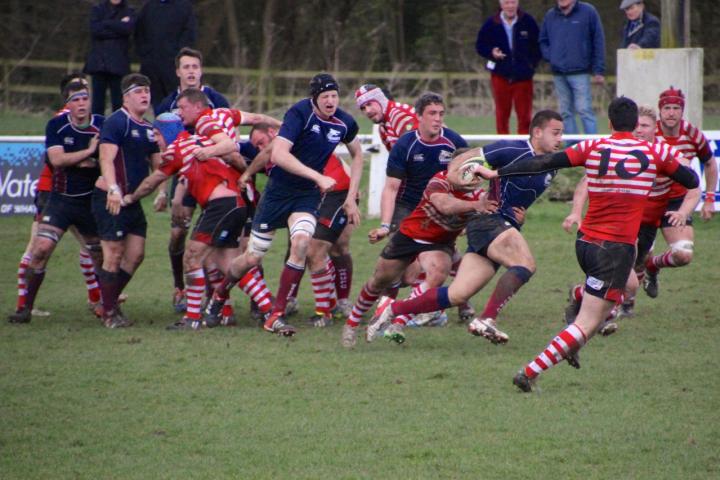 Saturday 28th March
North 1 West
Wilmslow 18 - 15 Bolton
Wilmslow enjoyed sufficient possession of the ball and territory to have won this game several times over. That they had to settle for a meagre three point margin was more a testimony to the obdurate and tenacious defence put up by Bolton than to the Wolves own shortcomings. In the end two tries from the outstanding New Zealander Vili Tuipulotu and three kicks, two penalties and a conversion, from Lawrence James proved to be just enough.
Bolton, battling to get out of the bottom three in the table, played as though this was their last stand. Their defence was organised and committed. Their forwards frequently counter rucked aggressively to disrupt ball on the Wilmslow side and if some of their play with hands in the ruck and tackle appeared illegal, it was generally to the satisfaction of the referee, Matthew Riley, and that's what mattered. In open play, they kept a good defensive line and always got men across when the prolific Wolves backs tried to run. It must have been like running into a swarm. Even right at the end when Wolves winger Harry Patch looked as though he had to score, Bolton got three men across to haul him down. They had their moments of good fortune too, when James seemed to be going clear midway through the second half but was unintentionally and unseen by the referee tripped. With so much of the play in their half of the field, they didn't get many chances to attack but they still managed two tries on the counter and briefly led for a few minutes in the second half. Strictly, of course, it wasn't Bolton's last chance to avoid dropping down a league but they have to now win at least one of their last two home games, probably both of them, and then hope that results elsewhere go their way.
The Wolves weren't all that far off from putting in a good display but they never really got on top of their opponents continual harassment. Although rock solid in scrum and lineout, some of their passing in open play was loose and inaccurate and nor did the pack ever deal as effectively as they might have done with the disruption in close quarter play, maybe it was a combination of the slippery ball and Bolton's 'in your face tactics'. Whatever, it made for a thoroughly competitive and interesting game, which the Wolves were never quite able to decisively nail down.
Within five minutes of the start, we had an inclination of the way things were going to go. The Wolves set up a catch and drive situation just three or four metres from the Bolton line but they lost the ball in the drive and from the ensuing scrum, Bolton centre Will Bate was off from under his own posts like a rocket and only desperate defence prevented him getting his pass away to winger Jonny Stansfield outside him.
The Wolves though were seeing plenty of the ball, both theirs and also against the put in and throw but then kept on coughing it up with anxious play when a bit more patience might have yielded more. Bolton always threatened on the break.
The first score came after twenty minutes from good Wilmslow scrum ball in mid field and after a series of pick and go drives, the field opened up for Mike Black to pass to Vili on the burst. Vili had a lot to do but he outstripped and held off the defence to make the line. James converted and ten minutes later added a penalty. The Wolves looked as though they could score any time they wanted but as chances came and went, they paid when they were penalised at the set piece deep in the Bolton half. A clearing kick was eschewed by the Bolton side and from a quick tap and go, they caught the Wolves off guard and went the length of the field for Stansfield to score in the corner.
The second half continued in much the same manner with the Wolves being denied by a fierce defence, forcing James to take pot at goal from a penalty to put the Wolves 13-5 to the good.
Another break from his own half by the influential Bate got Bolton into Wilmslow territory. James was yellow carded and Bolton's Mark Doherty took the three points on offer. Three minutes later, the Wolves forwards were once more pounding at the Bolton line when the ball went loose yet again. It was seized upon for a sharp sprint down the Wilmslow left and when it was recycled Bolton centre Rhys Pritchard was at hand to make the extra man count. Totally against the run of play, the Wolves were now two points adrift. From the restart though, Adam Hewitt was up to force an error from the Bolton catcher, the scrum was won and after several phases on the Bolton line, Vili stretched over for what would prove to be the decisive score.
There was still twenty minutes to play and most of them were conducted in or around the Bolton twenty two. Wolves scrum half Nick Barker got himself a yellow card for what he admitted afterwards was a bit of stupidity, probably born out of frustration. No matter, the Wolves continued to dominate but the Bolton defence was heroic and refused to budge. There was not much argument at the end that the better side had won but they had been forced to work extremely hard for it and there had always been the danger that a bit of carelessness could have let the visitors in.
The four points left Wilmslow six points clear in fifth position. One more win from their three remaining games will guarantee them their highest placing since the inception of leagues thirty years ago, with an outside chance of finishing fourth if they can win away at Penrith in a fortnight. Before that, there's the little matter of a Cheshire Vase final against Crewe & Nantwich at Winnington Park on Easter Saturday, 3.30pm, to be seen to.
Photo: Vili Tuipulotu breaks again from the back of a lineout.
Match report by David Pike.
Tags: