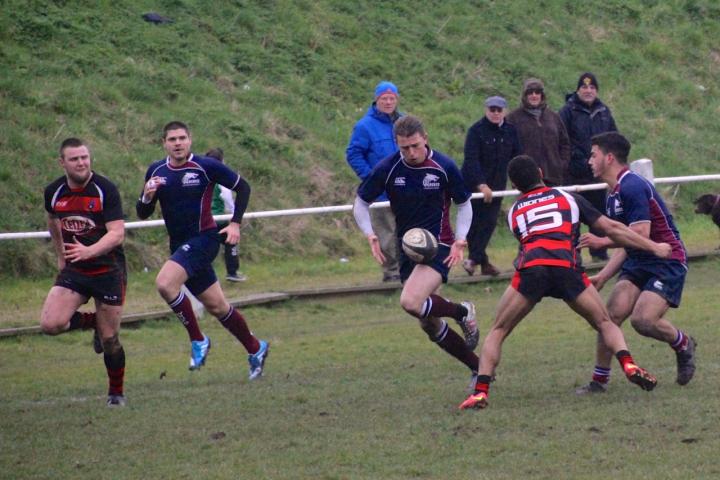 Saturday 14th. March 2015
North 1 West
Widnes 19 - 22 Wilmslow
It will have taken a bit of courage from much the same group of players, who had got blown away the week before, to come back and grab a late win at Widnes. In the end it was the classy play of Ed Stobart and Legin Hotham in the centre that prised open the Wids defence with just five minutes to go. But it was the less lauded players, such as hooker Tommy Wilkinson, second rows Matthew Shufflebottom and Richard Storrow, Adam Hewitt and their indefatigable skipper Mike Black playing on with painful bruised ribs, who after the maelstrom of recent weeks, still had the desire and guts to put in a full stint of cussed bloody mindedness at the coal face that denied the Wids. The set piece in the main kept its shape, losing only a couple against the head and managing to tidy up anything that looked like getting snarled up at the base. Hewitt has become a class act in the lineout and you couldn't have asked for more from Storrow and Shufflebottom. Many of these players have visibly grown in stature and into authentic first team players in these last few weeks.
Widnes may have had their own selection difficulties with the talismanic Kevin Leadbetter and skipper Rob Critchley both missing through injury. A clutch of other well known names, Matty Smith, Chris Atkin, Justin Winstanley, Paul McLindon and Johnny Leather amongst them were also absent. Despite a losing run of four straight defeats against Kendal, New Brighton, Penrith and Bolton behind them, they were still lying in fifth position in the table and nobody was under any illusions that Heath Road would be anything other than a very hard place to earn a win.
The Wolves started brightly. Although the Wids were seeing more of the ball, the Wolves looked the more dangerous when they had it and they took the lead through Lawrence James after five minutes when the Wids were penalised under their own sticks. Almost immediately afterwards, the Wids got turned over in their own half, scrum half Nick Barker and No. 10 Ollie Wilkinson quickly changed the direction of attack and there was full back Ben Day taking the pass as he intruded the line and sending James on his way for a 0-10 cushion. Wilmslow remained in the box seat, James missed a penalty chance to extend their lead but when Mike Black fielded a drop out after twenty minutes, the Wolves were on their way again through the middle until they recycled to the right where Hotham, showing delightful handling skills, released Stobart, who had the gas to run in for 0-15.
The Wids came alive when centre Dave Welsh found a gap in the Wolves defence and assisted by two penalties in quick succession it seemed easier for them to score than not to. The Wolves though managed to break out and a great opportunity for a third try was missed when referee Brown called James back for a supposed forward pass.
Welsh was soon causing the Wolves defence more problems though as the home side got into the game, Tom Spencer had a long run down the right and but for several dropped passes, they could have scored at least once before they eventually did from big Arnie Haydock barging over from a maul.
The second half got underway with the Wids forwards directing everything into their version of 'hellfire' corner, in front of the patio windows of their club house where the old and infirm sat in warm comfort watching proceedings outside with pints of dark ale and porter for sustenance. In the past Wilmslow and others no doubt have got bogged down in this corner of real estate and referee Brown gave the Wids every encouragement as they laid siege to the Wilmslow line. Penalties were awarded thick and fast, lineout drives looked as though they could only end with a score. It was all route one stuff but the Wolves defended every drive and pile up heroically. Inevitably, Mr Brown was soon digging into his pocket for his Yellow Card, firstly to Shufflebottom and then, very harshly it seemed, to a visibly distraught Hotham. It had to tell as No. 7 Mike Garrity then cut through from a short penalty to score.
Even though down to thirteen players, the Wolves managed to hold their opponents at distance, even going close themselves. They were back to a full quota, when a long cross kick aimed for Mike Jones on the Widnes right wing led to a five yard scrum from which scrum half Gavin Hatton was able to score.
Ten minutes left, down 19-15 away from home, you would have put your money on the home side staying in front or even extending their lead. The Wolves though responded to the challenge with a rock solid lineout and mix of driving play from the likes of a returning resurgent James Keys, Hewitt and Vili Tuipulotu and then spreading play when they could. Critically, they retained control of the ball. The Wids suffered a Yellow card. A decisive Wolves move was then halted just short and an exhausted looking Wids were awarded the put in. The ball squirted out on the Wilmslow side and when they couldn't find a way through on the right, they recycled left for Stobart to break the defence. James converted.
James was then called back, adjudged to have put a foot in touch, when he was clear for what would have been a second bonus point score and there was still time from the lineout for a final thrust from the Wids pack as they drove dangerously for a last time towards their beloved 'hellfire' corner but the ball came loose and the Wolves were able to play out time in the relative comfort of the half way line. It had been another heart in your mouth affair, which could have gone either way. The Wids might have thought they should have done better when in the ascendency and that they were the victims of what amounted to a smash and grab heist but there could be no denying the tenacity of the Wolves defence when it mattered and arguably it was their ability to raise their game in the final minutes which won the day for them.
Photo: A perfectly timed offload from Legin Hotham sets up Ed Stobart for the Wolves second try.
Match report by David Pike.
Tags: