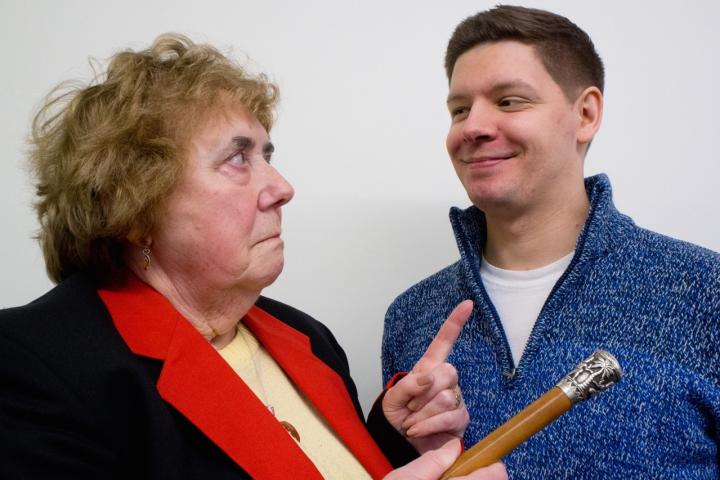 Wilmslow Guild Players' next production is the comedy-thriller "Spygame" by Bettine Manktelow. It runs from 15th to 18th April at Wilmslow Guild, the adult education centre on Bourne Street.
The play is about a group of unsuspecting game show contestants who think they are competing to win a prize by demonstrating their ability to be a spy. Little do they know that things are not as they first appear... but who can they trust?
Spygame is being directed by very active and experienced Guild Players member Michele Eaton. "I chose this play after reading a great many scripts because I felt it fits in with the type of productions we like to stage at Wilmslow Guild and the combination of comedy and murder mystery appealed to me," said Michele when asked about her choice of play.
Playwright Bettine Manktelow has written many murder comedies such as "Curtain Up On Murder", "Murder Weekend" and "They Call it Murder". She has been in theatrical ventures either professional or amateur all her life, starting off as a repertory actress at the age of fifteen. Her first play, which was not published, was presented in Singapore to an audience of sophisticated ex-pats. As it was a kitchen-sink drama it was greeted with hoots of laughter. At the time Bettine did not realise she had a flare for comedy! Subsequent plays, however, even when dramatic or thrilling always managed to have intentional comical lines and/or comical characters.
"My favourite character is Lloyd," said director Michele, "because he is so self-assured and irritating to the rest of the contestants and likes to break the rules and push the boundaries just like I do! So he is very much a male version of me."
The play has been cast entirely from within the Guild Players membership, with some well-known faces and a couple of more recent members. Having twelve weeks to rehearse has been a real bonus for the cast. "We have had a great time with lots of laughs along the way. The cast have been a real joy to work with," said Michele. "Usually I can be seen on the stage, but this is my first time directing and things are very different from the front. Despite that I am thoroughly enjoying trying out various ideas. I am looking forward to seeing the final production."
Spygame runs from 15th to 18th April at Wilmslow Guild on Bourne Street. Tickets cost £7.50 and can be booked online at www.wgp.org.uk (there are no booking fees for booking online). Alternatively tickets can be booked by calling 01625 520126 or emailing tickets@wgp.org.uk.
Photo: Grace Reed as Major Danielle and Jon Beagles as Lloyd.
Guest post by Bill Beton.
Tags: