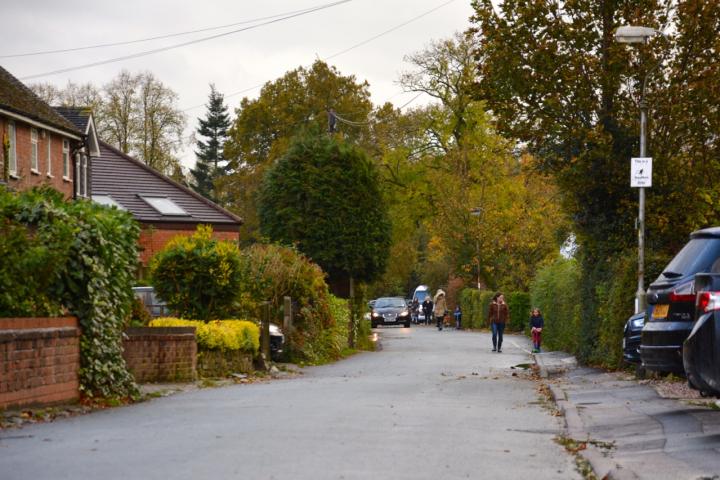 Representatives from a local primary school attended Wilmslow Town Council's meeting last night as a "last resort", having spent nearly a year asking Cheshire East Council for help to resolve their safety concerns.
Governor Marie Griffiths and Headteacher Darren Morgan of Lindow Primary School addressed the meeting to formally draw the councillors attention to a serious road safety issue that is effecting their school, in the hope that they might at last get some action which they have been asking for for nearly a year.
Marie Griffiths said "We want to make two main points. Firstly, there is a very serious potential risk of an accident on a daily basis to children and parentswho walk up and down Upcast Lane. Secondly, how shocked we have been at the level of apathy from those in authority and with responsibility for this issue."
Lindow Primary School is located down the end of a small country road which is a dead end. Traffic has to drive down the lane and return the same way and, despite it being the main way to reach the school, it does not have a pavement - instead there is a white line that separates children and vehicles.
The school has expanded over the last 5 years and now has over 200 pupils. It also has Wilmslow's only Hearing Impaired Resource Centre and is able to cater for children with very complex needs.
Marie continued "Our expansion has led to increasing issues of safety due to an increase in traffic and pedestrians down Upcast Lane in the mornings and evenings which leads to an unsafe environment for children to get to school every day.
"Concerns are regularly expressed by parents that the chance of an accident occurring is increasing.
"We have put into place a number of initiatives to reduce the amount of traffic down Upcast Lane. Many parents support these initiatives and park elsewhere and walk, but we can only do so much as a school, and now need support and action from Cheshire East Council to make further changes."
The main priorities for Lindow Primary School are appropriate gritting and hedge trimming as well as a speed limit and signage review. In the longer term the school would like to see a pavement extension and pedestrian crossing on Knutsford Road.
Marie added "We have asked Cheshire East Highways Team to help and advise us on what is appropriate. Our requests have been ignored and at worst rudely refused, blaming a lack of money."
Marie Griffiths first emailed councillors Gary Barton and Wesley Fitzgerald on this issue on 9th December 2013. She said "Although Councillor Barton was initially helpful, there has been no meaningful intervention since February. For nearly a year we have been going round in circles emailing and being ignored by everyone involved and having doors firmly shut when we asked for advice from CE Highways."
Marie finished by saying ""In conclusion, we are here because we do not know what else to do. We feel terribly let down by our councillors and the Highways Department.
"Are we going to have to wait for a serious accident involving a child before anyone will engage with us. We have had many near misses, the next one will not be so fortunate, and then it will be far too late. Please help us get action on this serious safety issues for our children."
Cllr Martin Watkins, Chairman of Wilmslow Town Council, responded "I have some good news for you and some bad news. I will start with the bad news. All the items you are talking about are within the province of Cheshire East Council they are not within the responsibility of this council.That's the bad news.
"The good news is that I'm quite happy to take your concerns because we have in the past had a road safety Local Area Partnership, particularly when we were looking at Morley Green Road and the speed limit which was down there. It took a long time to get improvements but we did get some improvements.
"The Local Area Partnership has lapsed but it is being being replaced and I'm very happy to take your comments and bring it to that committee in the future."
He added "We will take it on board. My experience says it will not be solved over night but we will try and progress it properly."