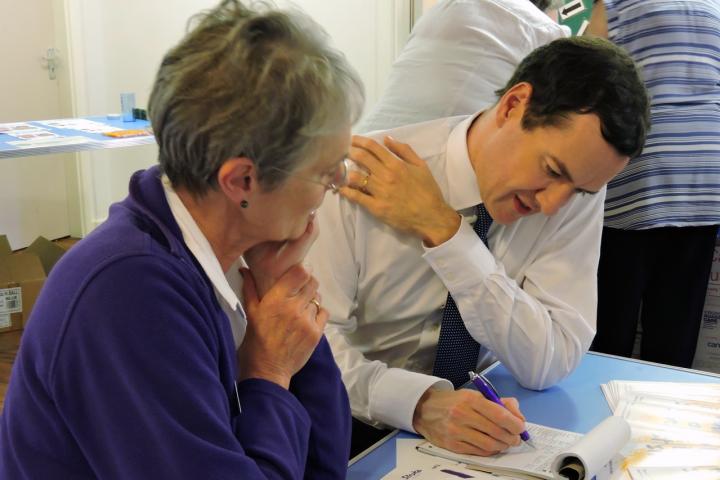 A Health MOT event on Colshaw Farm welcomed local MP George Osborne to promote local services available to older people in the local area.
The event on Thursday, 16th October, was organised by Snow Angels to offer a range of services and information - including blood pressure checks, advice on housing, budgeting, energy efficiency and caring for an older person in their own home.
George Osbourne MP said "A bad case of winter flu can really knock a healthy person for six so it is easy to imagine how dangerous it can be for the elderly, particularly if they have other health conditions. I am delighted to lend my support to this fantastic initiative by the Snow Angels and Dr Ahmed."
The Open Arms Centre on Howty Close, hosted a range of stalls from organisations such as Carers4All, Citizens Advice Bureau, Alzheimer's Society, the Stroke Association and Age UK Cheshire East.
Dr Amar Ahmed from Wilmslow Health Centre was there to stress the importance of older people getting their flu jabs to stay well over the winter months.
He said "Flu vaccinations are a safe and effective way to remain well over winter and they are essential for particular groups of people who are predisposed to developing the more severe complications associated with flu. For this reason Wilmslow Health Centre has laid on over a thousand extra weekend appointments to make it as easy as possible to for our patients to get protected.
"The event organised by Snow Angles and supported by our local MP, George Osborne, certainly supports the nationwide push to offer flu immunisations to at-risk populations and my patients living in and around Colshaw Farm were very grateful for such a convenient local service."
If you're over 65, the Government recommends that you have a seasonal flu jab. Seasonal flu viruses are always changing, so you need a jab every year, using the latest vaccine.
Your jab will be free if you are 65 or over, receive Carer's Allowance or care for an older person or you have a serious medical condition.
Snow Angels Colshaw Farm is supported by People's Health Trust, using money raised by HealthReward through the Health Lottery.
They are looking to recruit local volunteers to support older and vulnerable people on the Colshaw Farm Estate during periods of cold weather, and help with energy saving in the warmer months. This can include giving advice on keeping warm and well, helping with shopping trips and medicine delivery, providing benefits allowance advice, or just being a friendly face for people who may be feeling isolated or lonely.
For further information on Snow Angels, Colshaw Farm contact email Sally Probert-Hill or call her on 07936 195 192.
Tags: