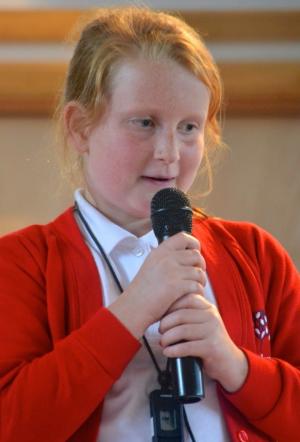 An eisteddfod is a Welsh festival celebrating literacy through performance. As part of the Literacy curriculum, all Lindow children were encouraged to 'perform' a piece of literature, either reading a well known poem or passage or writing and performing their own piece.
Every child in every class had the opportunity to rehearse a piece with the best two in each year group performing in front of the whole school. Even the teachers nominated a 'performer'!
Among the readings were Michael Rosen's poem "Don't" read by Beth Lomas; Sue Townsend's "The Evil Adults" read by class teacher Mrs Crossen; and Isaac Jackson and Ruby Phillips who read their own poems...
Friendship by Ruby, aged 9
You are a ray of sunshine in a world that's sometimes not so great
and the magic of your company just brightens my day.
You make me happy when I'm feeling slightly grey
and pick me up when things are getting just a little bit too tough.
I share my thoughts but you keep my secrets safe
and every day it warms me in my heart to know that you are not too far away.
I'm always there for you and I know you are too
because our friendship is always so lovely and true.
We may sometimes fight on things that we don't like
but we always find our way to make our friendship right.
And so I would just like to say how thankful I am each day
that I have you as my special friend.
Headteacher Darren Morgan said: "Our annual eisteddfod is a highlight of the school year. The children show great enthusiasm for performing and the event brings literacy to life."
Member post by Richard Norris.