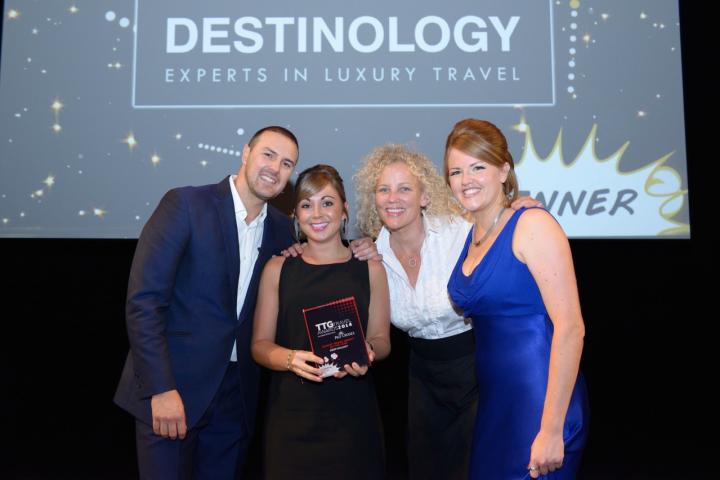 Promotional Feature
Wilmslow travel agency, Destinology, has been named 'Luxury Travel Agency of the Year' at a glittering national travel award ceremony this week, The TTG Awards. A celebration of all that's best in the UK travel industry, the awards are voted for by an expert panel made up of over 40 senior and respected representatives from across the UK travel industry.
Held at the Lyceum Theatre in London on September 15, and hosted by TV star Paddy McGuinness, Emma Morris, Marketing Executive at Destinology collected the award in front of hundreds of travel industry leaders from across the UK, before moving on to celebrate at a fabulous after party at London's Savoy Hotel.
Liz Hingley, Managing Director of Destinology, commented, "It's great to see our store getting the recognition it deserves. A first for the UK travel industry, our Wilmslow store offers a totally new style of travel agency. Opened in 2013, it's very different from anything else on offer, featuring two 80 inch screens, touch screen displays, cinema style presentation areas and an 'expert bar' for quick, knowledgeable advice from Destinology's expert staff."
As further recognition for the Wilmslow store, the award follows the 'Excellence in Customer Service Award' that the shop received at the local Macclesfield & Wilmslow Business Awards in 2013.
Founded in 2004, Destinology is one of the UK's leading luxury travel companies, recording a turnover of £48m in 2013 and offering bespoke holidays to luxury hotels and resorts in major international destinations, including the Maldives, Dubai, the Caribbean, the Far East, the USA and Europe. Destinology has its head office in Bolton and one retail store in Wilmslow, Cheshire, together employing over 100 staff and selling over 30,000 holidays annually.
Visit the Destinology store at 47-49 Alderley Edge Road, SK9 1NZ, or take a virtual look inside at: www.destinology.co.uk/wilmslow.
Photo: (l-r) TV star Paddy McGuinness; Emma Morris of Destinology, award sponsor Liz Trott of Nassau and Philippa Jacks, editor of TTG (Travel Trade Gazette).
Tags: