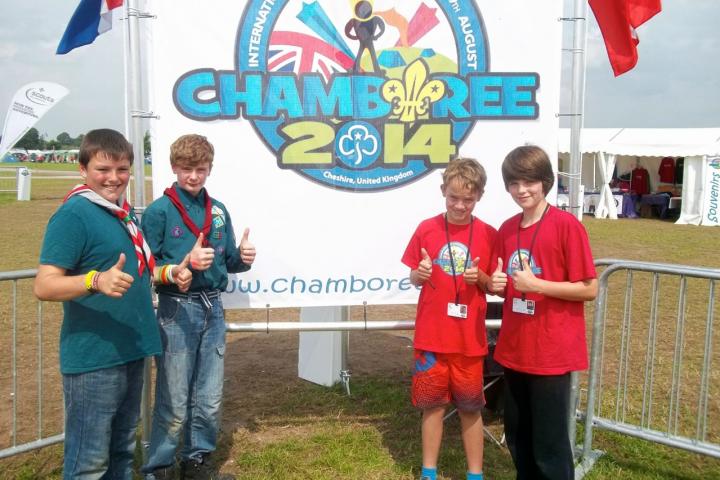 The challenge and excitement of Chamboree 2014 provided a week-long feast of fun and adventure for Wilmslow Scouts and Guides.
Chamboree is held every four years at the County Showground in Tabley and this year saw several thousand young people and their leaders from across the county, country and even overseas taking part.
Cubs, Scouts and Explorers were joined by Brownies, Guides and senior section members for the event which featured a superhero theme and a packed programme of activities including a stunt show, blast zone and off-site city experience in Liverpool alongside traditional survival skills and a superhero boot camp training area.
There were also science experiments to try, the chance to learn some circus skills and help to save the planet, plus a full programme of evening entertainment that included a talent show, rock night and silent disco.
Jason Brown, of 6th Wilmslow Scouts, "There's been so much to do with all the activities that have been organised for us. There's no chance of getting bored. I also enjoyed seeing the sights in Liverpool on the City Zone."
Wilmslow Scouts were camping as part of Alderley District and they were joined on their campsite by members of the Boy Scout Troop 70 from Lewisburg, West Virginia, who were just one of several overseas contingents taking part. Also joining in at Chamboree were visitors from Egypt, Holland, Belgium, Denmark, Slovenia, Norway, Kenya and Ireland.
Carnival Night saw many of the participants dressed as superheroes for a parade into the Chamboree arena.
Cheshire Scouts county commissioner and Camp Chief Graham Phillips said "We saw thousands of people entering into the spirit of the whole event through their fancy dress outfits and campsite gateways. It's been a fantastic week that I'm sure all who took part will remember for a long time.
"I also need to pay tribute to the hundreds of volunteers who worked tirelessly before and during the event in a variety of roles to ensure Chamboree 2014 could take place."
Photo: Oliver Thomas, Taylor Bruce, Luke Tidsey and Jason Brown enjoyed the fun at Chamboree.