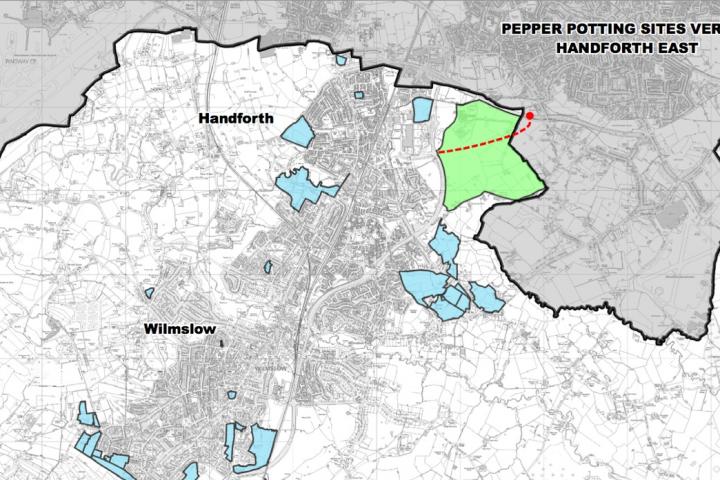 Cllr Michael Jones, Leader of Cheshire East Council, has issued the following letter today regarding the proposed development of the North Cheshire Growth Village at Handforth East.
"I have always taken a strong stance to fight for well planned, sustainable development in Cheshire East. To do this successfully I would always want local communities to be fully involved and have an influence on the process.
"Recently, I was pleased to meet with residents of Wilmslow to discuss development in the local area. The North Cheshire Growth Village at Handforth East presents a great opportunity to create a new self-contained settlement with properly planned infrastructure.
"I am committed to ensuring that the Handforth East site is developed comprehensively in accordance with an agreed Masterplan.
"Since very early meetings with residents, I have tried to support no development within Handforth or Wilmslow green spaces. I was concerned at the scale of development at Coppice Way and Adlington Road as I believe the bulk of development should be concentrated at the new sustainable village at Handforth.
"I am against "pepper potting" development as this means no sustainability and relief on infrastructure and a greater intrusion into the greenbelt. (Please see the map of all the sites that could be developed if our proposed village was to be removed).
"One of the most important pieces of infrastructure is the A34. We are working with Stockport to develop options for road access arrangements to serve the new village, as well as improved public transport and cycling facilities in the area which the Handforth East Village would enable us to deliver.
"My officers will continue to work closely with the local residents of Wilmslow and Handforth, and we would welcome your involvement in the development of a Transportation Strategy for the A34 corridor which will inform our future development plans in your area.
"We are also working to ensure the impacts of our development beyond CEC on the A34 in Stockport are mitigated. We need to work to reduce the impact of our traffic increase from the Handforth village or "pepper potting" development all the way up to the Gatley lights.
"Finally, and again in consultation with residents and Stockport, we are developing options for a new link to access the village from the A555 fully funded by CEC (please see map below). This is to alleviate the impact on the A34. So whilst I regret any development in our green spaces I believe that the new village will protect Handforth, Wilmslow and Alderley Edge from serious greenbelt intrusion and minimise the impacts on the A34."